Emmanuel Uduaghan Vs Sahara Reporters…Who Wants to Dupe Deltans?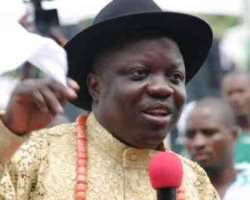 When the transaction was consummated, Deltans were told that the state had forged a partnership with Obasanjo Farms. In the words of the new commissioner for Agriculture and Natural Resources, Mr. Misan Ukubeyinje, Delta State acquisition of one-third equity holding   of Obasanjo farms Nigeria Limited, was   laudable and a catalyst for agricultural revolution in the state.'  
Our checks shows that Delta State Government had on June 16, 2010, signed a Memorandum of Understanding, MoU, with Obasanjo Farms Nigeria Limited in Otta, Ogun State, to develop agriculture in the state.  
Photo:FROM LEFT, GOVERNOR, EMMANUEL UDUAGHAN, MANAGING DIRECTOR, OBASANJO HOLDINGS, ELDER DANIEL ATSU AND COMMISSIONER FOR AGRICULTURE, DR. TONY NWAKA, DURING THE SIGNING OF MOU BETWEEN OBASABJO FARMS AND DELTA STATE, AT GOVERNMENT HOUSE, ASABA.
But the N3 billion Obasanjo-Delta State Government joint farm project, is now subject of controversy. While the state government insists that it is a legitimate venture, capable of offering employment to 300 youths. Certain section of the media and some political stakeholders, particularly the opposition in Delta state has described the venture as spurious, and a quid-pro-quo deal between Gen. Olusegun Obasanjo and Emmanuel Eweta Uduaghan.
Excerpt of report from an online news medium (Saharareporters) reads:   'Two cheques, issued in June 2010 and June 2011, provide incontrovertible evidence about how the embattled governor of Delta state, Emmanuel Uduaghan, buys favours and pays off supporters with state funds'.
  'The cheques, which were issued from the Oceanic Bank accounts operated by the Delta State government, show that the state government made illegal payments to the former president, Olusegun Obasanjo, whom it had retained to influence tribunal judgments during difficult political times'.  
'The first cheque was initially issued to Obasanjo Farms on June 15, 2010, from a Delta State account with number 0051-301-000008 for Seven Hundred and Seventy eight million, six hundred thousand Naira (N778, 600,000)'. 
  'However, in a high noon manoeuvre three days later, on June 18, 2010, the money was transferred to a Manager at Wema Bank Plc, to the Obasanjo Farms account number 1261153353017 with Sort Code 035171263'.
  'The last cheque, which had been identified as the monies used to bribe election petition tribunal judges that recently proclaimed Dr. Uduaghan the winner of the highly rigged January 6, 2011 re-run election, also emanated from Oceanic Bank where Uduaghan's current Commissioner of Finance, Bernard Okumagba,once served as a 'financial planner' in the mid 1990ss'.  
'The cheque, for N2.5 billion, was addressed to 'Manager Oceanic Bank Call Account' and was reportedly cashed and moved away in bullion vans to a location from which judges, consultants and lawyers were paid in cold, hard cash'.
  'That mind-boggling amount of N2.5 billion was taken out of the 'Federation Account Allocation Committee (FAAC)' account of the Delta State government in Oceanic Bank with Account Number '0051-301-000059'.
  'After the monies were cashed, they were reportedly given to actors in the election tribunal that included three judges'.   'It would be recalled that the final judgment of the re-run election tribunal was read by Tribunal Chairperson Justice Uzoamaka Ogwurike on July 25 2011. The judge had given the impression that the tribunal was doing a thorough job and planned to annul the election when, in fact, she was negotiating a higher pay-off amount, put at N350 million, for herself separate from other members who had accepted their bribe early in the work of the tribunal'.
Right of Reply:  
However, Governor Emmanuel Eweta Uduaghan of Delta State, has described an online report by Sahara Reporters as ignorant Lies by mischief makers.  
'Once again, Sahara reporters which prides itself as Nigeria's version of Wikileaks has aptly demonstrated its limitless capacity for mischief, amazing ignorance and unbridled determination to deny Nigeria and Nigerians their finest moment following the globally acclaimed transparent and fair elections held under the new leadership of Independent National Electoral Commission (INEC).  
While the famous Wikileaks publishes diplomatic dispatches unedited and devoid of any interpretation for the mainstream media to investigate, Saharareporters threw all the sacred ethics of journalism to the winds and embarked on mischievous interpretation of official documents and transactions they lacked the capacity to comprehend.  
In its August 4, 2011 posting, Saharareporters alleged that Dr. Emmanuel Uduaghan, governor of Delta State, 'paid Obasanjo and Tribunal judges over N3 billion' to buy a favourable verdict on the election re-run of January 11, 2011.   We are sure that Saharareporters and their sponsor(s) knew that they were wildly trading in fiction and lurid negative inventions in making that unsubstantiated allegation.
Just the same way the general public can also hazard a guess to who their sponsors are. But interestingly, we are sure they know that there was no atom of truth in the allegation although it works to harness their desperate and well-exploited tactics of trading lies to besmear the Uduaghan government for their self-serving interest .  
Anyway, here are the facts for the unsuspecting reading public:  
JUNE 15, 2010 TRANSFER OF N778,600,000 TO MANAGER, WEMA BANK  
1.The Delta State Government has a Memorandum of Understanding (MoU) with Obasanjo Farms Limited to constitute a company called 'OFN-Delta Farms Limited' with the initial farm site located at Ogwashi-Uku, Aniocha South Local Government Area. Delta State has one third equity in the company while Obasanjo Farms holds the balance two thirds equity contribution.   The Delta State Executive Council had approved 200 hectares of land and N778,600,000 payment as one third equity contribution to the project in 2010.
2. Consequently, the said payment is Delta State Government's contribution in line with the MoU and the state's Executive Council resolution.
3. This same Cheque was publicly displayed by the Governor at a well attended press conference in Asaba in 2010.   OCEANIC BANK'S CHEQUE FOR N2,418,223,328.96 DATED 30/06/11 IN FAVOUR OF 'MANAGER OCEANIC BANK CALL ACCOUNT'.  
1. As part of the Sate Government's Treasury Management Policy, idle funds in the Federal Accounts Allocation Committee (FAAC) are invested on short term call basis to earn interest in favour of the State Government.   The authority flows from the Financial Regulation and the Annual Budget for 2011.  
2. Oceanic Bank was directed to place the sum of N2,418,223,328.96 on call for seven days at five percent interest rate on June 30, 2011.  
3. On July 7, 2011, Oceanic Bank was instructed to liquidate the said sum back into the FAAC Account. This was promptly executed.  
4. Interest amounting to N849,539.11 was earned for Delta State Government during the seven days call period.   
SALIENT POINTS TO NOTE:  
1. The said Wema Bank cheque was issued June 15, 2010 at a time the election of Gov Uduaghan had not been annulled. 
2. The Governor's election was only annulled on November 9, 2010.  
3. The Re-run election was conducted on the 6th of January,2011  
4. Saharareporters in its display of ignorance of established banking transactions and or sheer mischief did not know that cash placed on call cannot be withdrawn as they reported.  
POSER:  
The Governor could only have offered a bribe in June 2010,if he had powers to foresee the annulment of his election, the re-run election and the litigation.  
At a time that Nigeria is having its moment in the international community following the transparent and fair manner the election re-run and the April 2011 general elections were conducted, this wild and baseless report by Saharareporters is an unabashed, reckless and a desperate bid by reactionary and opposition forces intent on using any means to hold back Delta's match towards greatness.  
Despite these efforts, Gov. Uduaghan remains focused and undistracted in delivering his promise.' The statement concluded.   
Recall:  
There have been attacks and counter attack by the Delta government and key opposition groups in the state on the N3 billion partnership with Obasanjo Farms Ltd to build a chicken processing factory in Ogwashi-Uku, Aniocha South Local Government Area of the state.  
When the plan was hatched to establish the project, most Deltans complained that it was bereft of due process as it allegedly came as a surprise and when Governor Uduaghan was embattled with the issue of gubernatorial candidacy for the state, until the Peoples Democratic Party (PDP) leadership via Obasanjo as Board of Trustees chairman stepped in to save him.  
Complaints also trailed the ugly development then, as Uduaghan's emissaries to Obasanjo reported that it would be a 'Give and take' deal between the duo of Obasanjo and Uduaghan.   The state commissioner for Agriculture at the time was Tony Nwaka, who is said to have hatched the plan to use Ogwashi-uku, his home place as the site for the poultry project.
He is also alleged to have helped in securing the large expanse of land for the Obasanjo Farms Ltd, owned by former President Olusegun Obasanjo, to start the project even as governor Uduaghan had said the project would enable the people of Delta, who were engaged in poultry production, to process their produce for local consumption and for export and considering its proximity to the ongoing Asaba International Airport.  
The then Commissioner for Agriculture, Dr Tony Nwaka signed on behalf of the state Government while the Managing Director of Obasanjo Holdings Elder Daniel Atsu signed on behalf of their farm, also known as OFN-Delta Farm Limited while the state Governor, Dr. Emmanuel Uduaghan presented a check of N778.6 million as the state's counterpart funding to make the programme a success.  
The Governor had explained that the MOU would facilitate the diversification of the state economy and reduce the over dependence on Oil and Gas, adding that many investors such as Aliko Dangote and Mike Adenuga were interested in tapping into the resources in the state said, 'Today is very Historic because our journey to achieve our strategic goal of economic empowerment through Agriculture is being realized. Our economy should not depend entirely on Oil and Gas; we believe the state cannot be sustained only by Oil and Gas, which is why we are moving into Agriculture.
  'We are determined to see that this project succeeds, we are big stakeholders in the project, by the time we finish this project, and we shall be exporting processed chicken from Delta State'.  
The units of poultry farms established include a broiler farm of 220,000 birds, a layer farm of 150,000 laying capacity, a rearing unit of 50,000 point of lay hens, a feed mill and broiler processing plant.
The Managing Director of Obasanjo Holdings Nigeria Limited, Elder Daniel Atsu had also explained that the partnership would enable the farm to transfer technical skills, managerial competence and good will to Delta State and appealed to the state government to build the project to achieve success.
  'Our farm project is a social and business service. We are moving Ota farms to Delta State, this will not only provide food for the people, it will provide employment and economic development,' he said.