Africa Magic ruined Nollywood marketing — Clarion Chukwura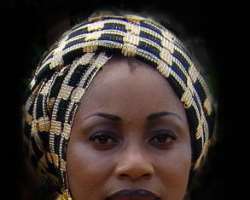 We had gone to Clarion Chukwura for our normal interview, but in the course of discussions, we sensed her discontent with the state of things in Nollywood. Acting, for this veteran, is life. And if anything is wrong with the industry, Clarion is personally hurt. She did not hide her pain and like the true daughter of her father, she named names.
I've read a couple of your interviews where you complained about the decay in Nollywood. As a veteran and one of those there at the beginning, why didn't you do anything before this time?
My career started before Nollywood. When Nollywood started, my career was already 15 years old. The way the industry was run in the first 14 years of my career was the yardstick with which Nollywood began. But somewhere along the line, it became politicised along tribal line and with that came the rot that is affecting Nollywood. That is something I cannot do anything about because I'm a veteran.
The solution has to come by making Nollywood an institution. And how do you do that? You do that by unionizing Nollywood. Nollywood has to become an industry that has trade union like every other industry. By union, everybody like actors, actresses, producers and directors will come under same body. But that is being resisted because some people are putting personal interest over collective interest.
Whom will the union be agitating against?
A union is not formed for the purpose of agitation only. Under the union, issues like actors' fee, minimum fee for an extra can be fixed and that of a lead character can have a minimum tag. There can be issues of creative content and who becomes an actor. Things like the background you need before you become an actor can be set and adhered to. The issue of piracy and condition of work can be handled. The issues of marketers exploiting actors can also be addressed.
Is that not what ANTP and the AGN should do?
AGN says it is actors' guild for English while ANTP says it is the guild for Yoruba. It shouldn't be that way. Everywhere in the world, we have one guild for all movie screen actors. AGN and ANTP are parts of the problems because they are associations formed on tribal lines. There should be one actors' union. What we have right now is some people claiming they are Nollywood while the other is not. I am a part of the two and that is why I can speak for the two. The structure we have on ground is no structure.
Is union the solution?
Yes. For instance, actors in the English genre have gone on strike twice and each time, our strike failed. Why? What we have governing us is an association. An association cannot force the employer to employ or not, it is run on personal relationship basis. If it is a union, once we say down tool, it means no work and we have to go to a roundtable discussion.
But marketers here would simply say if you don't want what we are offering you, we will take our money to somewhere else.
The reason a marketer could say that is because what we have is actors' guild and not a union. An actors' union decides who becomes an actor. The marketer cannot use anybody else. But if he insists, we would sue the marketer and put him behind bars because the law of the land supports us. But there is no union to pursue it.
Why is there no union in place?
Most of our people have no business being actors in the first place. They don't know the benefits that would accrue if there is a union. Again, the presidents of the guild do not want union because their guilds are their little kingdom. Actors' union means Ejike Asiegbu and Jide Kosoko would not have bodies to lord themselves over. That would mean a Dejumo Lewis or Olu Jacob, Madazi in Jos could become president of the union.
Why can't you start the union?
The only way I can do it is by saying what I am saying. Secondly, I've written letters to people and they say it is a wonderful idea, but they still back off. Maybe the reason they back off is because they don't want problem with Ejike or Jide Kosoko. They know that the union would also put us at loggerhead with Emeka Mba who is the Director-General of Nigeria Film and Video Censor Board (NFVCB). But he has no business being the D-G because he did not study film. He does not know the history of this industry. He is a political appointee. The industry should be run by people who have a stake in the industry. Emeka Mba is not qualified to be D-G of Censors' Board because he is not one of us and he has never been one of us.
How are you earning a living now that you are taking a backseat?
I have Clarion Chukwura Trade and Enterprise from 1988. The company does supply of gift items, supply to companies and I also have 50% in Capital Dream Pictures, a company run by Clarence (her son). I am well taken care of. In the last five years, my living has not been from acting. I also handle end of year parties and organise AGM for companies.
When last were you on location?
In January, I was on location of Murphy Afolabi and in December last year, I was on location of two movies in Owerri while I was also on location of a movie in November at Asaba, Delta State.
Do you collect the kind of fee you want to collect?
I collect my fee and it is not just about my fee. We have to be able to justify why my character is doing what it is doing.
But you've once said the fee you used to collect some years ago is not the same marketers are offering now, that it has gone down.
Yes, and that is why I am not doing as much movies as I used to do.
Are marketers a blessing or a curse?
Marketers have to be given their due. Nollywood was built by marketers. It is just that they began to resist change somewhere along the line. Without marketers, Nollywood, as we know it today would not have been what it is. The likes of Emeka Mba would not have been interested. Nollywood, as we know it today that the likes of Emeka Mba have sold to African Magic, would not be without marketers.
So, you are also against African Magic, I thought it is only Emeka Ike that has grudge against them.
No, they sent me an invitation for their five years anniversary but I did not go. Those actors and marketers who attended the five years anniversary of African Magic are a disgrace. They showed that they did not know their rights. African Magic shows your movie and you pay them to watch your movie, is that not a shame? You pay N9,000 every month to watch your movie and you get nothing for it at the end of the day.
But they pay producers $1000.
Thank you. Tell me what movie was made with $1,000 dollars. That is a quarter of my fee. With $1,000 African Magic shows your movie for, at least, 25 times. Nollywood movie sales began to drop two years into showing of our movies by African Magic. A year into their fifth anniversary, English movie sales have crashed. Yoruba movies that they show only at weekends are the ones that sell now. Yoruba movies are selling far more than the English now. Sound Image in London would tell you that before he sells two English movies that he has sold 20 Yoruba movies.
I was told that no English movie has sold up to 100,000 copies in the last five years.
That is true.
Who is to blame?
Emeka Mba is to be blamed because that is one of his duties as the D-G of NFVCB.
But he has come up with a distribution network.
What has he done with the problems on ground? At least before African Magic, a Nigerian actor can tell you that he or she is earning N1 million or N800,000 but that is not true now. Why doesn't he solve the problem that makes an actor who was earning N500 000 to now earn N150 000 first.
You once said men misunderstand you that they come with different expectations?
It is not just men, even women. When they come to you, they expect to see that person they see on the screen. They expect a hardcore, gorgeous and very rich person. When they come to you they find out that you are just a simple person who prefers to be like the girl next door. They now realize that you don't have glitterati around you 24 hours a day. I just want to be me.
Are you lonely?
I am not lonely because I have a healthy relationship with my children and the person I am dating. I have a healthy and a very serious relationship.
Will you get marry again?
I might, if I feel like it.
But do you from the bottom of your heart want a new marriage?
With me, each time I get married has nothing to do with wanting it from the bottom of my heart, it is about how I feel about the person I want to marry.
What is your next month show all about?
It is called 'Colour of Innocence'. I shall be bringing stars together to raise fund for les-privileged children through my NGO, Clarion Chukwwura Initiative. It will take place at the Planet Nollywood on February 28.