STAR ACTRESS,BINTA AYO MOGAJI RESURFACES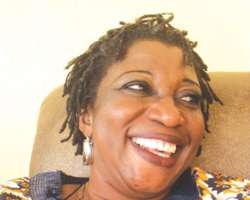 Veteran actress,Ayo Mogaji-Oduleye popularly known by fans as Binta Ayo Mogaji got the name after she translated her script and role in the movie,Binta.She has spent over a decade in the industry and featured in over 50 films.
However, It has been revealed that the actress has finally relocated abroad with her family after spending much of her lifetime in Nigeria and carving a niche for herself as well.
Furthermore, we scooped that the ageless beauty actress who still shuttles between Nigeria and United Kingdom has maintained her role as a housewife and at the same time working on locations.
We learnt that the actress is in Nigeria to complete some of the projects she didn't finish before relocating abroad.
Some of the works she is working on include 'Tarima', Nowhere to be found','Face to Face' amongst others.