Olasco buys Funke Akindele's mum Sienna van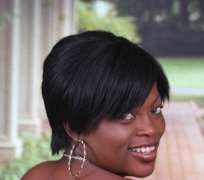 For Funke Akindele, who won the Future Award Actress of the Year (2009), the movie Jenifa is one major occurrence that has redefined her life. She has not only gained popularity and wealth; her family members are also benefiting from her goodwill.
A very reliable source disclosed that Alhaji Olatunji, the man behind Olasco Films and Records, the marketing company that distributed Jenifa bought a space bus worth about N1.2 million for Funke's mummy.
The reason behind the gift is not known, but talk has it that the man wanted to show his appreciation to Funke for giving him an opportunity to market the highest selling movie in recent time in Nollywood.
Another talk has it that the gift might not be unconnected to alleged fostering romantic relationship between Funke and the marketer while others say it is simply because Olasco is trying to keep other marketers at bay because many have been making overtures to Funke to consider them in her next movie project. Whatever might be the reason, we don't know. What we however know is that Funke's mum is cruising around with a space bus.
We called Funke to deny or confirm the story and she reacted angrily, saying she is tired of the media and vowed not to talk to the press again. She bluntly told this reporter to go and write whatever he wants and queried if we think she is incapable of buying her mother a car.
We understand Funke's plight, she has suffered a series of unfavourable media reports of late (especially in soft-sell magazines) but we still think the graduate of Law from UNILAG who became popular via her role in 'I need to know' should have handled the situation better considering that she has an OND in Mass Communication, a sister who is a journalist and her long-standing relationship with this reporter long before the high-profile Funke Akindele emerged.