DOSU TIPS EAGLES TO BEAT BLACK STARS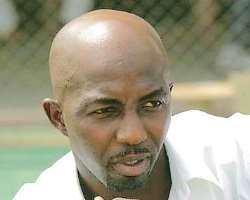 Samson Siasia
Former Super Eagles goalkeeper Joseph Dosu sees Nigeria ending Ghana's winning streak when they clash on August 9 in a friendly game in London.
The Black Stars have won the last three encounters with the widest margin being the 4-1, thrashing the Eagles suffered in London in 2007.
Dosu told our correspondent on Thursday that the game deserved the attention it was getting because the teams had created an exciting rivalry.
He said, 'This is the best time for the Eagles to end the dominance of Ghana in their West African derby. There appears to be no pressure on the teams because this is a friendly game but truly, they both know they must win just for pride.
'Nigeria have quality players in the team, just as Ghana. What the Eagles need is to be more committed and disciplined. Nigeria can win this game but it is left for the players to show determination.'
The former Julius Berger goalkeeper is also optimistic that the Eagles will pick the sole ticket in Group B for the 2012 Africa Cup of Nations, despite being three points behind Guinea.
Dosu said, 'The technical crew needs to look at what will likely stop the Eagles from playing at their best in Antananarivo. If it is the altitude, they should go there early to acclimatise.'
'Whatever it is, we must beat Madagascar and then plan for the downfall of Guinea in Abuja. I believe we'll qualify eventually.'