Frank Edoho's break up: Entertainers advice troubled couple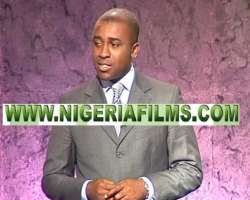 Shocked Nigerians are yet to come to terms with the recent public announcement by the celebrity presenter of Who Wants to be a Millionaire, Frank Edoho that his marriage to Catherine, his broadcaster wife was over. Since the disclosure, which Edoho made via social network site-Twitter, several concerned people have been reacting, including his colleagues in the showbiz industry. Entertainment Express, in its usual tradition sampled the views of some entertainers on the separation, which many believed would eventually lead to another bitter divorce, if not properly handled.
OBY EDOZIEH (Actress/Producer)
Marriage is for better for worse, why make it public property? Only true love will dent inside and cover up in public and not dent several times and go back and out. People make mistakes because there is no perfect being. It's best to have a partner that can accommodate and handle issues, if you must report, let it be your immediate family. If he still wants the marriage later, they should agree nothing must go beyond their home. If not, they should not rush into another marriage without using their tongues to count their teeth.
CHARLES INOJIE (Actor/Director)
Frank and Catherine are without doubt two of Nigeria's most visible TV personalities, which deservedly confers the status of role models on them. We implore them to please resolve their differences and come back together again as the lovely and enviable couple they used to be in the ultimate interest of their children
BHAIRA MCWIZU (Actress)
Well, sometimes things get worse in order to get better, marriage inclusive. But decisions have been made by two adults and we must respect that. I just hope this choice for a divorce is a decision they both can live with for the rest of their lives. Divorce no be yam o!
LILIAN AMAH-ALUKO (Actress/Producer)
He who wears the shoe knows where it pinches, so I can only wish the couple strength to do the right thing. They have to ensure the children the Almighty blesses them with do not suffer as a result of their actions. If love and mutual respect is gone, they are better off part.
KATE HENSHAW-NUTTAL (Actress)
I cannot advice the couple on how to live their lives. The bible says they are one; it's between both of them. It's nobody's business the decisions they make concerning their union. Who are we to judge or offer advice?
STEPHNORA OKERE (Actress/Producer)
What! No! You know my take on issues like this. Frank, for the love of Christ, do not let the devil have a space to derail your life and that of your family. Divorce is not of God. I'm sure you know what the bible says. Please, and please, go back home. Ignore the devil and his devices.
D'LECTURA (Comedian)
I do not think a reasonable friend will advice Frank to leave his wife and kids. But, let's not forget that marriage is not manage. It's only he that wears the shoe knows where it hurts most. (For, it is better to live on the roof top or even in the desert than to share the house with a nagging wife. (Proverb 21 v 9& 19). But if the issue is reconcilable, I would advice him to refrain from taking that action because it won't only affect both of them, but also their children.
KATE EFFIONG-OKUNNU (Actress/Producer)
The separation will give both of them time to reflect on the marriage, if there is still love, or if the marriage can still survive, they will come back together. You don't stay in a marriage because of the kids; you stay in it because you want to stay. When a union is over, it's over, do not force it, they are not divorced yet, abi? Good, the separation will help both of them to appreciate each other.