I don't hold grudges against Wale Adenuga - Femi Ogunrombi, former Papa Ajasco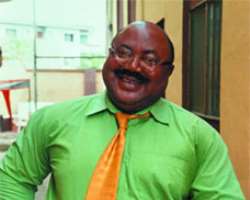 Femi Ogunrombi, former Papa Ajasco
Until December last year, he was the new face of Papa Ajasco, the popular comedy sitcom that has become a favourite relaxation tonic for many Nigerian families. For Femi Ogunrombi, an Obafemi Awolowo University trained Dramatic Arts graduate-cum-musicologist, leaving the role was purely based on mutual agreement.
"I hold no grudge against Mr Wale Adenuga and his organization," he told http://www.nollywoodgists.com, recently.
Ogunrombi added, "It was not his fault that I left the set of Papa Ajasco. He actually told me that the marketers were putting pressures on him to return the old person playing the role. I have once heard that I am an elitist Papa Ajasco that the grammar was too much. This was also confirmed by the market analysis they did.
But I believed that I appealed more to the elite than the ordinary people. I told him that from the business side of things, it was in the best interest of all. There is no animosity between us and that is why I was immediately given a role in Super Story."
Although, he was relatively unknown before taking up the role of Papa Ajasco from Peter Oladele Fatomilola, however, Ogunrombi says playing the role was not the highpoint of his career. He also spoke on his current projects, future plans and several other issues.
Background
My name is Femi Taiwo Ogunrombi. I was born over 50 years ago at Ile-Ife although, I hail from Abeokuta in Ogun State. I was raised at Ile-Ife and moved over to Lagos in the early 1970s with my parents. My parents are good Christians. My father is late, while my mother is alive by the grace of God. I am married with three beautiful daughters.
From nursing to arts
Funny enough, I must tell you that I am a trained and registered nurse. When I completed my secondary education, I proceeded to train in Medical Nursing in 1975 and finished and practised at General Hospital, Ikeja, Lagos where I was attached to the Accident and Emergency unit. This enabled me to cross into industrial medical practices where I worked with Atlantic Textiles Mills as a medical officer.
However, in 1980, I decided to follow my passion which is the arts. I realized that music and drama move naturally with me.
Even as at 1975, I was a choir master/ music producer. It was in 1979 that things began to take shape. Then, when I closed at the clinic, I would go to EMI Music studios where I worked with people like Chris Ajilo and Engineer Etem Udoh. I also liaised with some UNILAG students such as Peco Colete who managed Majek Fashek at a time and Tunji Lader. That formed my background in the areas of entertainment and arts. I worked with veterans like Uncle Leji Oyewole (flutist), Emma Arinho, Epifanio Joseph, Late Billy Right, among others.
My legacies at OAU
Immediately I moved to Obafemi Awolowo University, Ile-Ife to study Drama at Dramatic School of African Studies, I formed a choral group called Ayoro voices. Although, I was in drama school but based on my background in music, I was able to form the group which shook OAU between 1980 to 1984. The group was a cultural ambassador for the school. During courtesy visits to the school by dignitaries such as governors and traditional rulers, the VC usually call on us to entertain the guests. The picture of the group was on the school's Christmas card of 1981.
Playing Papa Ajasco
Never. Playing Papa Ajasco was just a challenge and a phase. This is because someone else having played the role for eight years and you ask me to take over and do it the same way. That is not possible. I wanted to develop my own character or analysis of the role as I am trained to do. Two individuals can never be the same. I made this known to Mr. Adenuga
Papa Ajasco was not the peak of my career
Playing Papa Ajasco was not the peak of my career. I will rather say that my experiences with the national troupe was the highest point in my acting career.
Immediately I got into the National Troupe, Uncle Bayo Oduleye approached me to write a song for a Korean audience. But thank God for a poem written by Prof. Ahmed Yerima which he dedicated to the iconic leader of Korea, Kim Jong Hill. The Koreans love Kim Jong Hill so much. According to what they told me, they said whenever he woke up he always asked that what else are we to do for our people? With the help of Koreans, the poem was translated into their language and I researched on their music trend and developed new lyrics.
There was nobody to deliver the song so, I had to perform it myself in North Korea. On the d-day, in spite of my initial timidity, I went on to perform the song and before I knew it members of the audience began to weep. I was awarded a Gold Plaque and a honourary Diploma by one of their universities as a creative composer. This is what I want to be known for. I want to be known as a Nigerian composer who changed the face of society with his art.
My new projects
Today, I have written songs and scored professionally. What I am planning now is to build a culture in the heart and minds of young people. This was partly achieved, while I worked as the school coordinator with Mr Wale Adenuga's film school (PEFTI). With respect to what the government is doing in the educational sector, however, I still think we don't have enough music educators. Music education should be introduced from the early stage. While at the university, out of the 36 of us in the class, only four of us are practising music today. In most schools, music department is a dumping ground and this should not be.
I suggest that there should be support or grants for individuals and organizations such as PEFTI to enhance the study of music. At the moment I am seeking sponsors for a body of national songs which I wrote. The songs promote peace, unity and love. I also do jingles, sound tracks and music training. Well, I am still a consultant to a number of groups and agencies. Right now, I am also producing some works which I haven't been able to do. My personal work suffered a lot while I was working with PEFTI. So, it is like picking myself up from the scratch all over again.
Between Wale Adenuga and I
My relationship with Papa Ajasco lasted for two years. I first started as Papa Ajasco, then an opening for the Principal of PEFTI surfaced and I told Mr. Adenuga that I could also teach. Pronto, I got the job. I got the role of Papa Ajasco by divine appointment. Beke Adeoye, the former Personnel Manager, who is also my brother, informed me that WAP Productions had an opening but I thought it was along the line of music/ soundtrack production. But when I got there, I met a lot of people who were auditioning for a role.
Before then, I had never met Mr Adenuga but when I stepped into their office he immediately approached me and asked if I could play Papa Ajasco. I was surprised and told him that, the person playing the role was a junior colleague and a friend and Mr Adenuga was surprised. I feigned anger at Beke for bringing me there to ridicule me. Coincidentally, it was this feigned anger that got Mr Adenuga attracted to me and instantly he offered me the role. I went home and considered it. Meanwhile, I had received a prophecy from my pastor that God wanted to do something big in my life. At that time also, to be honest, I was idle and broke. So, I accepted the offer.
Grouse with Wale Adenuga
One of the things I admire about Mr Adenuga is that he is very strict. I also learnt not to mix emotions with business. But somewhere along the line, he needs to be more sensitive to the needs of his staff. I am a large family man and in need. Really, no employee will be completely satisfied with what he is getting from his employer.