…FLYING EAGLES SET TO PREY ON CROATIA FOR KNOCK-OUT STAGE QUALIFICATION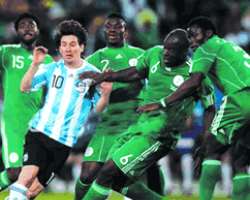 A win over Group D favourite, Croatia, today will shoot African champion, Nigeria, into the knockout stage of the U20 World Cup. The Flying Eagles got off to a flying start at Colombia 2011 with a 5-0 thrashing of debutant, Guatemala, and another win over Croatia, who was beaten by Saudi Arabia 2-0, would guarantee their passage to the second round of the tournament.
Croatia is the seeded team in Group D based in Armenia, but she failed to find her bearing against a very prepared Saudi team, who trained for 25 days in Brazil before spending another two weeks in Colombia.
Zvonko Pamic is the Croatia top striker and netted four goals during the qualifiers leading to this tournament.
His combination with explosive central midfielder, Filip Ozobic, has propelled the Croats thus far, but they found a very fired up Saudis a bridge too long to cross Wednesday night.
She reached only her second Under-20 World Cup when she thrashed Portugal 5-0 in the qualifying tournament for the European Under-19 Championship last year.
Her other outing in this competition was achieved at Nigeria '99, where she reached the second round.
She played four games, won one, drew two and lost one. They scored six goals and conceded six.
Nigeria, on the hand, is high on confidence after a 5-0 trouncing of debutant, Guatemala, with one of the local newspapers simply saying that the Flying Eagles danced on the Central Americans.
It was the smallest man on the park, Edafe Egbedi, standing at only 1.62 metres and weighing 62 kilogrammes who stole the show, not just with his goals' celebration, but his two goals and an assist.
The clubless winger has promised to score against Croats.
'I believe I will score another goal on Wednesday against Croatia,' vowed the dashing forward who netted three goals as Nigeria reached the final of the FIFA Under-17 World Cup on home soil two years ago.
'I watched the left full backs of both teams (Croatia and Saudi Arabia) and as long as (Ramon) Azeez and (Abduljaleel) Ajagun give me good passes, I will dribble past them.'
The appreciative fans at the Estadio Centenario in Armenia, who sang 'Ole! Ole!!' as the Flying Eagles turned on the style on Wednesday, will be happier to watch Egbedi do the special dance he did each time he scored against Guatemala.