I talked Tuface into music—Ernest Asuzu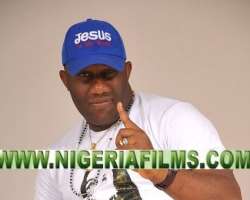 Seen as one of Nollywood's notorious characters, Ernest Asuzu's bad boy image goes beyond the screen. Having perfected his act in the make-believe world as one of the industry's bad boys, it appears the character stuck to him in his real life dealings. With so many reports of different brawls and fights at different night clubs and streets, Asuzu indeed bore out the image of a real troublemaker.
However, in the twinkle of an eye, the bad boy cleaned up his acts and against all expectations got married to his beautiful heart-throb; and, as if to prove the popular cliché of change being the constant thing in life, the once notorious actor is now a 'man of God' who would rather evangelize than fight. Unbelievable? Well, he spoke with Deola Adeoti on how he encouraged Tuface to sing, his marital life, singing career and many others.
How is life?
Life's good, better and ugly, but we still give God thanks and glory.
You've suddenly dumped acting for music. What informs that?
I can't dump acting; my life's acting. What happened is that music is my first love. What I did is to go back to my first love.
Last year you released an album entitled "Earnestly Speaking." What was the response?
The response was fine. The album was a 14-tracker album with hit tracks like Na You, Thank You Baba, My Destiny and some other rhythmic songs. People appreciated and that makes you want to do more.
With the names you mentioned in your last albums, it looked as if you were trying to tell people what you've passed through. Am I right?
I must say for many years back, I've been misunderstood. So I want to use music to right a whole lot of wrongs, and also use it to tell people what I know about God.
Is your return to music triggered by the fact that artistes these days rake in money, unlike before?
There's no amount of money you can use in quantifying one's talent. Whatever I personally do, I do it for the act not for money. I just want people to feel me. Whenever people listen to these songs, they get moved. They get moved because they know what I've passed through. Money will definitely come when you love what you're doing.
How did you come about the name EL Cream?
It's not really cream like an ice cream or baby cream. EL Cream was a name I gave to myself while building a career for myself. EL Cream simply means "El Shaddai Crown everything around me."
What kind of music do you do?
I sing, I rap, and I do dancehall and all kinds of music.
What is your greatest asset music-wise?
I'm a bad rapper.
Who are your contemporaries in the music industry?
When I started music, my contemporaries were Blacky, Daniel Wilson, Tunde and Wunmi Obe, Dr Fresh and a whole lot of people.
How's marital life?
My marital life's beautiful. Now, I advise people to get married because it's the best.
What can you say about your wife?
My wife's the best woman in the world. I've got myself one woman in a million; I give glory to God.
It appears that you're now very close to God?
Yeah, there's nothing better than giving your life to Jesus.
Will you like to have your own church one day?
Yeah, I'm doing that in the next one year. I pray that God will actually let me actualize that dream.
You were once associated with taking cocaine and other hard substances?
You and I know that cocaine's not a cheap substance. And to be a cocaine addict's not easy to maintain. I neither smoke nor take cocaine. All those speculations are from my enemies. They want to blackmail me but God's greater than them. I'm a cat with nine lives. No matter what they do, my destiny will shine. I don't drink alcohol but I've got natural swagger.
Would you say you're fulfilled in life?
Yes. I might not be driving the most expensive car, but I'm fulfilled. If I look at the people I've contributed to their lives, like Tuface Idibia, Nigga Raw, Blackface, I feel happy. I encouraged Tuface into music. I also assisted Nigga Raw. When these people are picking up their awards, I'm fulfilled.