WHY RIVERS NEEDS N250BN BOND - AMAECHI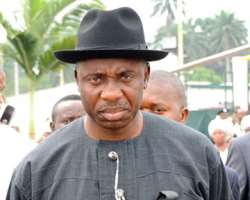 Amaechi
Rivers State Governor, Mr. Rotimi Amaechi, has explained that his administration is planning to raise N250bn from bonds at the capital market to fund specific developmental projects.
The governor listed some of the projects to include the Greater Port Harcourt City, monorail project, the new Rivers State University of Science and Technology (Phase I), [email protected] (an entertainment complex), the Port Harcourt Ring Road and a new M-10 highway.
Amaechi, who spoke through his Chief Press Secretary, Mr. David Iyofor, explained that the projects would need adequate fund injection would be needed to complete the projects.
He added that the state was planning to approach the capital market in October to raise the funds.
The governor said the State House of Assembly had already given approval to the executive to raise the bond.
According to him, the projects on the ground cannot be completed by relying on federal allocation and internally generated revenue that come in trickles.
Meanwhile, the state Commissioner for Finance, Dr. Chamberlain Peterside, who spoke on the significance of the bond, said the long-term capital projects that were capable of catalysing the industrialisation and transformation of Rivers State needed massive financial investment, which could only be obtained from the capital market.