My priorities for the New Year –Adaora Ukoh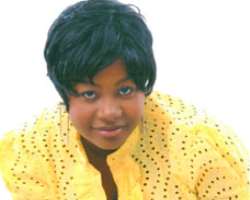 New generation actress and debutante clothier, Adaora Ukoh, is brimming with ideas in this new year. In the next couple of weeks, Divas Dynasty, the new TV programme, she is poised to present, would be making its debut on network stations. Aimed at celebrating the real and successful African woman, Ukoh is optimistic that the programme would further elevate and reposition her acting career.
Busty and single, Ukoh, who joined Nollywood in '97, is also ready with her clothing line in the new year, and expressed hope to organize a nationwide fashion show to herald its formal launch.
Speaking with http://www.nollywoodgists.com, in her first interview for the year, the Lawyer-turned-entertainer shared most of her plans and prospects as well as other creative ventures that would be keeping her busy round the year.
Good to see you in this New Year, we would like to know most of your plans and ideas?
Thank so much my brother, I just returned from the East brimming with many laudable initiatives and ideas. However, two major things are on my shelf this 2009. First, is working on my TV show, Divas Dynasty, it is aimed at celebrating real successful women. It would also serve as a medium to encourage the younger generation to work harder in their chosen careers. It is hitting the airwaves soon. Second, is my clothing label, Couture De' Adaora. It is basically a new clothing line for women who are not only big, but also plus sized women that are extremely confident of themselves and what they wear.
We would also like to know more about Diva's Dynasty?
It may further interest you to know that Diva's Dynasty, is a production of Citi Vendors Integrated Services, with head office in London. It's a programme that celebrates women and their positive achievements. It will also tell their stories, challenges, trials and triumphs, thus placing them side by side with their male counterparts. The programme would also inspire, strengthen and empower the African woman. It will also have a humanitarian side by being ready to work with several NGO's towards the empowerment of less privileged women in our society. Ngozi Kanu, is the producer and we have a very dedicated team on ground.
What are the new ideas you think would differentiate the programme from others currently running on air?
Several unique concepts would definitely separate us from the maddening crowd. We are also out to help most females already drowning in the pool of prostitution and other dirty acts. This and many more, which we would provide periodically, will stand us out from the crowd.
So far, how has it been combining acting with Law?
I'm okay with both, though; I have not started practising Law, but don't think I will dump one for the other. Maybe, in the nearest future, I intend going into entertainment law, so that I can help protect the intellectual works of my
colleagues and even mine too.
Aren't you perturbed about your single status, in this New Year?
Why would I be? Besides, I'm not absolutely single, currently seeing someone and we are already talking marriage gradually. By His grace, I'm walking down the aisle this 2009.
Do men still stare at your sexy figure and boobs?
Yeah! They still do that a lot, even in this new year.
You are a fashionable actress, what defines your style and dress sense?
For me, the style defines the woman in you and stands you out. And whatever I put on depends on my mood and where I'm going at a particular time.

What are the idiosyncrasies that will change about you this 2009?
Let me answer that question first, by describing myself. Adaora Ukoh is an easygoing person and very hardworking too, full of ideas and ready to move on with her life. Maybe, the things that did not favour me last year, I will do away with them this 2009. And please do not ask me, because they are very personal to me.
So, how does it feel like to be back in Nollywood this new year?
Well, it feels real good to be back among my colleagues this 2009. It is good to be an actress in Nollywood too.
But your parents kicked against your going into acting then?
My late dad didn't really like it but my mum was just indifferent, she had no reservations about it. Dad wanted me out, but then, I just had to keep keeping on, especially on what you want and not what people want for you. But I'm happy that before his demise he actually allowed me to be.
Why not tell us a bit about your love life this 2009?
I don't want to talk about my affair in public. I
don't think he would like me going public with our romance on the pages of newspapers.
What strategies have you devised to use in coping with Nigerian men, especially the ones that want to date you in this New Year?
I must not tell you my secret; it's a personal thing. No doubt about the fact that they will keep disturbing me, but every man has the right to woo a girl. Another factor is your attitude towards men. Men woo me every now and then. I'm used to it. Some of them are real, while some are spurious.
Looking back, do you feel bad about some of your past affairs?
No! I've never felt bad and won't feel bad. I'm not the first; neither will I be the last to fall out of a relationship. Again over the years, I now have inner eyes to identify and differentiate real people from the fake ones. For me, no hard feelings for my broken affairs, I've always advised my pals to let go any relationship that does not favour them. Sisters should always move on with their lives, no matter what happens.
Do you still believe in love?
Yes, I do believe in love so much and I'm very romantic. When I see a romantic man it makes me feel very romantic. Like I always tell my pals, a real man will bring out the real you. And the relationship will only flow when the two of you tango very well. Every relationship needs commitment and communication.
Like how many movies do you intend featuring in this 2009?
For now, I cannot say, but I know it's definitely going to be a very busy year for me. Mind you, nothing good comes easy, for me, it started like a journey of a thousand miles, which began with just one step. The attitude to life that makes one a winner, is when you expect challenges and know that you have chosen to overcome the challenges. It makes you a better person. For me, a challenge makes one a better person for the future, how do you strive hard when you don't go through them? Aside acting and presenting, I will also dedicate time to my clothing line this year. I also do make-ups for my pals occasionally.
What other goals do you want to achieve this year and possibly in the not too distant future?
I've always prayed to God to make me the best in my chosen careers. I see myself getting to the top of my career in the nearest future and not coming down from that top position till I leave the stage. I want to be seen as a focused actress who has done so well for herself and Nollywood. I want to be celebrated as an artiste, lawyer, clothier and presenter globally.
Who are the great minds that have not stopped inspiring you?
On the foreign scene, I'm still down with Whoopi Goldberg and Queen Latifat, I see a bit of me in her. I also love Monique; they are there and representing even with their weights. Coming home, I love Joke Silva and Onyeka Onwenu, I look up to them a lot as role models and source of inspirations.
Are there regrets to share with us?
Not really! I've learnt to love and accept myself the way I am. And what I choose to do, I did because I wanted to do it. So, in essence, I'm always ready, to face the consequences resulting from my actions.
If given the opportunity, what major thing would you love to do for humanity, especially in this 2009?
Sincerely, I would love to change the face of Nigeria, especially corruption and the suffering masses whose faces I see around me everyday. I also want to help the destitute, we should heal the country and empower the youths, we are the future whether the leaders like it or not. Change is the new face of the world and Nigeria must embrace it now.
Do you see Nollywood embracing the change?
Nollywood is growing and has done well for itself and the practitioners. It is a fast growing industry that is making Nigeria proud globally and has also imbibed and embraced the culture of change.
If given the chance, what major bad habit of yours would you love to discard in this 2009?
How do you expect me to answer that question publicly. It is a very personal question and not for public consumption.
You must have taken several bold steps in your youthful life, which, among them, would you say remains the boldest?
For me, the boldest step was standing firm and going back to the university to fulfill my dad's wish to read Law. He was already dead when I got an admission to read Law. My ambition as a kid was to read Banking and Finance, but my dad wanted Law. So, I'm happy reading his dream course, but very sad that he was not around to see me graduate. I'm glad he made me read Law despite my stubbornness. I know that he would be happy and fulfilled with me wherever he is now.
What is the vim that will drive you in the new year?
First, God, He is also my biggest source of inspiration. I also read many inspirational books about those who started from nothing to something in life. These and many more would definitely keep me going now and even beyond.