BREAKING NEWS;KAREN & WENDALL WIN BIG BROTHER AMPLIFIED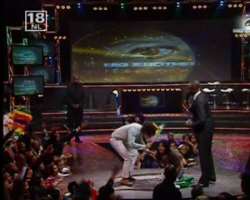 An amazing and electrifying show that got Africa talking for exactly 91 days has finally come to an end and your Amplified winners - Karen and Wendall have snatched the most coveted US$200 000 each.
After Luclay became the final Housemate to be Evicted, there were only two left and oblivious of the fact that the true meaning of the show being Amplified was that there would be two winners, Karen and Wendall stood next to IK as he toyed with them.
Karen immediately fell to her knees when IK announced both of them as winners. Wendall rushed into his mom's arms and flung her into the air as they celebrated.
The two Amplified winners felt safe and secure in the arms of family members who equally couldn't contain their excitement.
Of the Finalists; Vina was evicted first, followed by Hanni. The Top 5 was asked to leave the Amplified House together and one by one they were shown highlights of their time in the House.
It was back to the business of the day and Sharon O became the next Finalist to be Evicted, making Karen the last woman standing.
Lomwe was Evicted next and then there were three, Karen, Luclay and Wendall.
Africa, it's a wrap and you have chosen your two most Amplified Housemates out of an initial full House of 26.