COMEDIAN AYO RICHARD MAKUN:SETS A PACE IN COMEDY BUSINESS!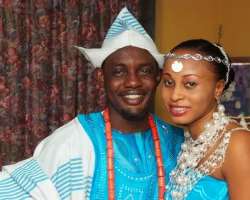 ayo and his wife mabel at their traditonal wedding in 2008
date of birth;august 19th
place of birth:delta state.
mentor:comedian alibaba.
stage name:Ay.
alumni:delta state university(theatre arts)
favourite word:ohon-ohon!
The Delta State born compere and standup comedian who hails from Ifon,Ondo State had been into showbiz for several years before his path crossed with that of his mentor and King of Nigerian comedy,Alli Baba in 2005.
ayo is a successful show host of AY show and he does this so well that one would be forced to beleive he has been doing this all his life but hear him speak''I grew up from a family of 7.I am the first male child. We hail from Ifon in Ondo State,But I was born and raised in Delta State so everything about me is Delta.I
am so much into Delta State than my state of origin.I am a street product so while growing up I tried dry cleaning, bar tending (bar man),scavenging,in fact I once worked as a barber .I did all that in Delta State''.
ayo is also an actor who has featured in Nigeria's Home Movie's including Tears In Heaven,Silent Whispers,Live Wire.
febuary 8,2008 changed his status to that of father and in november 2008,he married his babymama mabel in a lavish talk of the town wedding.
ayo rocked the comedy business in 2008 alright and his show'the ay show'is a testimony to this.
Ay has been recognised with the following awards:
COMEDIAN OF THE YEAR- courtesy of Diamond Awards for comedy
• 2008 COMEDIAN OF THE YEAR – Courtesy of Mode Men of The Year Awards
• 2008 COMEDIAN OF THE YEAR- Courtesy of MBG Abuja Merit Awards
• 2008 COMEDIAN OF THE YEAR- Courtesy of Arsenal Award for Excellence
• 2008 TEENS FAVOURITE COMEDIAN OF THE YEAR
• 2008 BEST TV COMEDY SHOW-
if you think you have seen the best of ay,then think again,we bet hes got a bucketful of suprises for us all in 2009!