Danfo Driver duo repackages, plans Meshango Nite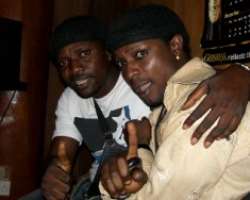 The duo of Mountain Black and Mad Melon, which most Nigerians know as 'Danfo Driver' has been out of scene for a while. They are however out with a new single titled Meshango. The duo has just signed a recording deal with D & I Entertainment and are working on a new album. Apart from the single, the new video is also rocking the airwaves courtesy of David and Isaiah the brain behind D & I Entertainment.
In a bid to "repackage Danfo Driver as the biggest raga duo in Africa and also to improve Ajegunle pattern of music as a whole," D&I Entertainment has appointed Events Aloud Entertainment as the management company to handle Danfo Driver booking, image and public relations.
As part of the repackaging process for Danfo Driver, the duo has put together a monthly gig tagged Meshango Nite featuring Danfo Driver and friends, with the first edition billed for Papa's Nite Club on 31st Jan.2009
You will recall that Polongo, one of their major hits, was anthem three years ago, and the song was also used as sound track on Holloywood flick, 'PHAT GIRLZ'