presentation of video workshop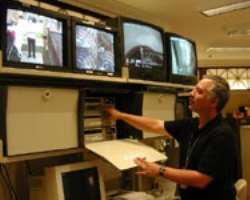 From today, Saturday, the Centre for Contemporary Art (CCA) in Yaba, Lagos, unveils a public presentation of the two-week video workshop.
A small but dynamic group of 8 artists working across media have been participating in the video art workshop lead by three international video artists Miguel Petchkovsky (Angola), Goddy Leye (Cameroon) and Eustaquio Neves (Brazil)
According to Bisi Silva, curator of the centre, the workshop aims are to provide artists with a good grasp of the concepts of Video Art within contemporary artistic practice and to create projects based on experimentation of the video image and on the classic forms of art like painting, sculpture, music and theatre, while introducing new elements like performance, installation, photography and sound. An important aspect of the workshop is for each artists and participant to talk about their practice and this is complemented each day by watching video art from around the world.
In addition, she said, the first week has been one of learning and tough love in which ideas presented go through the critique mill but at the end some brilliant projects are being developed.
"Filming is in full swing and artists are pushing past initial concepts, to get to the editing stages. Late afternoon sessions are spent seeking peer reviews of work in order to fine tune ideas. As the theme is Lagos the participants have been encouraged to work with the landscape of Lagos so expect to see familiar or unfamiliar moving images of this mega city.
"In presenting the city, painter Lilian Pilaku has decided to focus on the lack of constant power supply, while performance artist Jelili Atiku is focusing on Power and Healing in the city. And sound artist Emeka Ogboh finding a perfect symbiosis for the sounds of lagos with moving images. The result will be exhilarating," Silva added.