Move Over Spielberg: Lancelot is king of Nollywood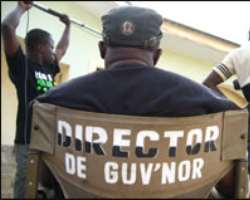 In Nigeria, Lancelot Oduwa Imasuen is Steven Spielberg, Martin Scorsese and George Lucas all rolled into one.
Imasuen is the most famous and prolific director in a country that churns out some 2,500 movies a year, more than any place except the U.S. and India. Nicknamed "Da Guv'nor" for his take-charge attitude, the 37-year-old filmmaker has made more than 160 films since his debut in 1995 with "Twisted Tale."
"I would like to achieve some of Spielberg's greatness, but I love being myself," Imasuen said during an interview at the Sundance Film Festival in Park City, Utah, where he's the focus of a documentary on the Nigerian film industry. "I believe I can do great things."
The movie, directed by Canadians Ben Addelman and Samir Mallal, is called "Nollywood Babylon." Nollywood is the nickname for the movie-making business centered in Lagos, the crowded bustling Nigerian city that draws ambitious people from throughout Africa.
Imasuen's films are primitive by U.S. and European standards, usually shot in two weeks with a single hand-held digital camera. But the straight-to-DVD melodramas he makes are incredibly popular in Nigeria, where they're sold at market stalls for US$2 or US$3 apiece, and in nearby countries like Ghana and Cameroon.
"It's a huge business," Addelman, 32, said. "People will buy five or 10 movies at a time."
There are only three functioning theaters in Lagos, so most movies are watched at home. And since the films are relatively cheap to produce - Imasuen's costs have ranged from US$20,000 to US$130,000 - it's not hard to make money.
Imasuen, who adopted his first name after reading about Sir Lancelot, said he's made as much as US$100,000 on one film, though he usually plows the profits right back into his production company.
"I do quite well, but I also work very hard and I don't put up with any nonsense," said the stocky, goateed director, who showed his aversion to Park City's chilly temperatures by wearing a jacket and scarf inside a hotel.
The documentary follows Imasuen as he directs "Bent Arrows," a story about incest and prostitution. Like most Nollywood films, it shows common people trying to overcome hardships.
"I just want to tell stories that the average person can relate to," Imasuen said. "The Western media always portray Africa in a negative light. I want to give a positive message."
After being fed a constant diet of British movies under colonial rule, Nigeria gained its independence in 1960 and developed its own film industry. Native movies thrived for several decades, but the business disappeared in the 1980s when Nigeria's economy collapsed because of corruption and falling oil prices.
The local movie revival began in 1992 when a Lagos businessman shot a film to boost the sales of videotapes. "Living in Bondage" sold more than 500,000 copies, giving birth to Nollywood.
Many Nollywood films have a strong religious or spiritual theme. Voodoo and witchcraft often compete with born-again Christianity, reflecting the clash between ancient traditions and modern culture.
"Nollywood films are filled with religious symbolism," Mallal, 31, said.
In fact, one of Nigeria's top movie producers is also a religious leader. Helen Ukpabio is a former cult member who uses her good-versus-evil movies as a recruiting tool for her growing evangelical church.
Imasuen wants to spread Nigerian films around the world. To do that, he'll need investments from major producers and studios.
"Africa is an untapped market," he said. "When the mobile-phone companies came there, they made their projected profit for three years in six months. We could do the same thing with our movies."