Many of our boys now want to braid their hair - Twin Seven Seven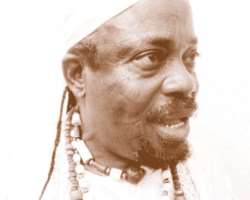 Seeing many young African males braid their hair nowadays, multi-talented artist, Twins Seven Seven, cannot resist smiling at himself. "Now, they've seen the light," he is likely to be muttering to himself.
This is a fashion he started some six decades ago partly out of defiance, but also in memory of his twins sister who had passed on at a tender age.
"When I started braiding my hair many years ago, some people were raising eyebrows and saying all sorts of things about Twin Seven Seven," he told our correspondent in Osogbo, Osun State, where he practised his arts - visual, magical, dance etc - and made his name. He was at the formal opening of the Centre for Culture and International Understanding in the ancient city.
"People were saying all sorts of things. But see how many young Nigerians, and other Black Africans have taken to braiding now. Then, they never knew I had a vision," he adds.
Apart from being a form of memorial service to his late sister, the hair style also confirms to practices of his Sango worshipping heritage. But he further notes that he was born a Dada - a child with coiled hairs in the mould of Rastafarians.
But how does the artist who was made the UNESCO Peace Ambassador last year braid the hair? Who does it for him? He explains that it is his wives that work on it. He recalls that he is a man of many wives.
"I have a good number of them," he says. "Even more than Fela did."
While noting that 'a book about his life' is being written at the Indiana University, he vows that he is still very much working as an artist. Particularly, he says, he feels nauseated at how many Nigerian youths are taking to hip hop, saying it is a slight on cultural music.
"I have already returned into the studio. You just watch out. I will come out in a big way."
Incidentally, Twin Seven Seven explains, he never knew that his works were part of those auctioned in Lagos last year, where many artists smiled home with rotund sums of money. Two works were credited to him, at least based on the names attached to them in the brochure.
While acknowledging the role that Osogbo played in his career, he remembers that he is actually a native of Ibadan, where he was born and grew up before adventuring to the Osun State capital.
"I am from Ile Olosun in Agbeni area of Ibadan. My grandfather, Osuntoki, ruled Ibadan for two years. When I started performing, my parents did not encourage me. So, I ran to Osogbo."