American gospel artiste who sings in five languages----------Makeda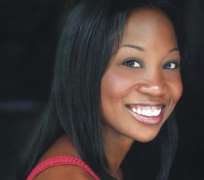 During the yearly Holy Ghost Festival of the RCCG in 2008, a remarkable performance by an American female gospel artiste, not only got all enraptured in a frenzy of worship, but calling for more when the time came for her to exit the stage.
Her name is Makeda Tene, whose intellect and musical accomplishments are as detailed as the beauty and drive conveyed in her message of salvation interpreted through music.
Another remarkable quality of this great minister of the gospel in music is her youth, her beauty and her intellect. She sings in five different languages; Italian, French, Germany, Spanish and English.
Sincerely everything about her translates to a clear evidence of the grace of God which she clearly exudes.
Makede Tene studied opera, ballet, tap, jazz, violin and classical piano. She later bagged an acting degree from the Marymount Manhattan Collage.
She has stared in leading roles in the Off Broadway productions of "Road and the Coloured Museum"amongst other appearances she has made in acting.