DECAMPMENT TO PDP: LIKE OHAKIM, LIKE ROCHAS OKOROCHA?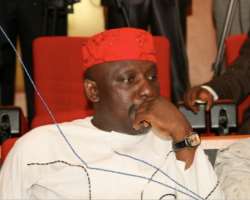 IMO STATE GOVERNOR ROCHAS OKOROCHA.
WRITTEN BY EMEKA ORAETOKA
Soon after becoming the governor of Imo State on the platform of Progressive Peoples Party [PPA] in 2007, the then governor, Ikedi Ohakim, started a political dance that suggested he was on his way to the ruling Peoples' Democratic Party[PDP]. Just as the media was trying to inform Nigerians of Ohakim's political intention, he equally commissioned a denial group to debunk press position on his looming movement to PDP.
Before Ohakim's political movement from his party, PPA to PDP, it was predicted that he will eventually pitch his tent with PDP based on the agreement that brought him to power. The dramatic manner he won the 2007 governorship election points to the fact that it may not be long before he jumped boat to PDP from the party that brought him to power-PPA. When Ohakim eventually crossed over to PDP, bookmakers were only proved right-nobody was surprised as to his decision to dump PPA. In Ohakim's decampment case, PDP itself prepared the ground for it. It will be recalled that PDP sponsored Ohakim in PPA, when it declared that it has no candidate in the governorship election of 2007.
Less than two months into the administration of Rochas Okorocha, sponsored by All Progressive Grand Alliance [APGA], disturbing information of reported decampment move has emanated from Douglas house in Imo state. Report has it that a certain elder-statesman in the state took governor Rochas Okorocha to the former Acting National Chairman of the ruling Peoples' Democratic Party [PDP], now minister of defence, Dr. Bello Haliru Mohammed; for the purpose of sealing Rochas decampment to PDP deal. Dr. Mohammed however, said a CAPITAL NO to the move.
According to information, Dr. Mohammed told governor Okorocha and his entourage that much as PDP will like to have him in its fold, it will not be proper for him to decamp now, since litigations arising from his election have not been disposed off. It is being speculated that the main reason the acting Chairman rejected Rochas bid is the fact that the election that brought him to power was at best, controversial as it ought to remain inconclusive among other problems that bedeviled the governorship election itself.
Watchers of political events in Imo state have attributed the alleged desperation to decamp to PDP to the controversial manner the governorship election was conducted in the state. It could be recalled that Independent National Electoral Commission [INEC] did not conduct election in Oguta Local Government Area with almost 74,000 registered voters; for reason best known to them, thereby disenfranchising them from voting for their preferred candidate. The non conduct of election there has also robbed them of representation in the State House of Assembly. Oguta LGA is believed to be the stronghold of PDP, and for APGA to have won the governorship election with just 36,000 votes, political pundits are of the view that should there be election in this vital PDP enclave, PDP might just win the election, landslide.
Another school of political thought believes that with the return of the strong man of Oguta, Senator Francis Arthur Nzeribe, couple with the tremendous goodwill he enjoys in the area, as manifested in the manner they patiently waited for his return from London where he went on medicals, for political direction; the Oguta election whenever, it comes up will surely throw-up an interesting scenario. Head or tail INEC may have shot itself on the foot with the manner its unofficial spokesman, Mike Igini, been painting issues as to why the commission could not conduct supplementary election in Oguta. At least on two occasions, Igini informed Nigerians that INEC could not conduct election in Oguta because elections have never taken place in Oguta before that, the practice there has always been for Nzeribe to writes result in his mansion. The first time Igini made this comment was on the 10th of May, 2011 on a live programme in Channels Television. All these may also be responsible for the desperation on the part of Rochas to dump APGA for PDP at all cost.
The hollowness of Igini's position on election in Oguta becomes self evident when it is realized that Nzeribe was not in Nigeria when the governorship election took place. With the Presidential election petition still in progress at the tribunal, Oguta may just throw-up an interesting scenario, going by the half truth from INEC over the reason behind the botched election there. For instance, is Igini not aware that voting took place in Oguta in both National Assembly and Presidential elections? In the Presidential election alone, Oguta may have given PDP about 95% of its votes; is Igini implying that Nzeribe manipulated Oguta vote for PDP? Time will tell.
Emeka Oraetoka, Information Management Consultant & Political Researcher, wrote in from Abuja. P. O. Box 18928. E-mail:[email protected]
Disclaimer:

"The views/contents expressed in this article are the sole responsibility of the author(s) and do not necessarily reflect those of The Nigerian Voice. The Nigerian Voice will not be responsible or liable for any inaccurate or incorrect statements contained in this article."
Articles by thewillnigeria.com