LIZZY ANJORIN SPEAKS ON LOVE CHILD RUMOUR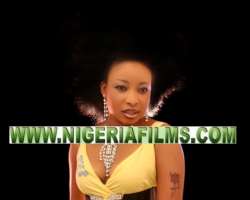 She's no doubt a fact that she is a paragon of beauty, at your first contact with her; you can not mistake her for a one way model. Beauty, intelligence, and hard-work are rarely found in her, but Lizzy is evidently blessed with beauty and brain. Though she tried all she could to avoid scandal but bad belles wont let her be. Not too long ago, the vivacious actress who is currently swimming in a pool of successes was alleged to have been keeping her thirteen years old daughter from public to be aware that she is no longer in midst of celebrities who are single mother. In a tête-à-tête with her, the Iyawo Ojokan producer told GBOLAHAN ADETAYO, the truth behind the rumour, the secret of her success among other sundry issues. Enjoy the excerpts…
You haven't been on the party scene these days like before, hope no problems?
Not at all, the reason is that I just discovered that going to parties every day will expose you to some things like scandals, then I used to graces occasions that comes my way but later I see some fallacious tales about me which is not suppose to be, so that is what influenced my absence at events. And glory be to God almighty, since I stepped back, trying to be my self, no body go ahead again and say Lizzy is this and that. I could not even imagine what people wrote about me and Iyabo Ojo at an event I attended recently. So that is my number one aim of not going to events again. The second one is my business, thank God for his work, I have been moving forward than never before in my business, at time during the weekends, I have to supply wines to some people and probably I have to be at location at that moment, so I have to call my boys to fix some things. Then the other business I do like customs and fashion materials, I have to go there to take stocks and know the next thing they need and some times I need to get out for materials. So now I could say those are crosses that I am carrying for now which did not permit me to visit events any longer.
Don't you think that not going out again will make you irrelevant?
I don't think so because I don't belief in the fact that if you don't go out people will not have you in mind again.
You recently opened a store called Peak Me, tell us about that?
You see, moving around selling things to some socialites or supplying wines at event that comes my way and I said to myself that okay let me just get a shop because most time I feel like having shop so that I can keep everything and anyone that needed it, can easily get it from their without stress. Not that I will be taking samples to the stockers like I use to do before, I have it on my laptop and I show it to my customers or send it to their mails, but now I have a place where everybody can shops, I sell costumes, jewelry, wines, wrist watches and many glamorous fabrics. Having a shop now, people can walk in and picks whatever they want, most time people commends on my appearance by saying that they like my what Lizzy is putting on, you also can get that from my shop. So that is the main reason why I put some things into consideration.
Looking at the stress attached with it, do you think it will keep you off the movie scene?
Not really, because it has nothing to do with my movie locations. As you can see, right now I have about scripts on table which must interpret, any time that I have two or three says off, I go the shop trying to position one or two, it makes sun so shine for me. It is good to have things like this. You know, being popular, everything is all about time. There are lots of people that have been their before, though some are still there, but you can't compare them now to then that they are big stars. Life is not bed of roses, you need to have some things you embark on so that when things turn upside down in the industry you fall back to your business and when it rosy again in the industry you continue your job. Right from my childhood before having a shop I have been engaged with businesses.
Are you at the moment mimicking any flick?
Yes, but I will not divulge the title now because I haven't register it yet.
But can you expatiate more on that?
Yeah, it is just a crime movie that will beat your heart. Don't worry, I will tell you more about it later because now, I don't want to split the beans.
There was a time you were rumour to have been in the list of Nigerians artistes with love children, and you were said to have recently flaunted her. How true is that?
Actually, I am hearing it for the first time, is it flaunting? But a right time, I pray that God should flaunt me, I don't need to exhibit anything that God gives you. You have to hold on to God's time and let him flaunt everything about you; all I know is that my daughter was not with me for sometimes due to some reasons, assuming she was with me during my scandals, probably she must have share part of it and that is why you see some of our artistes don't have best of their children because their children go astray at times due to the scandals and unpleasant tale they write about their parents. When they disseminate what is not real about their parents the kids may probably share part of it or put it into action and you know all these children are with sharp brains, so I think this is a right time for me.
Do you accede that you also belong to the list of TV stars with love children?
No, I am not because have never hid her, but things happened gradually, but I never. Because me being an educated fellow, children are gift from God, it is only Yoruba settings that compulsory it that things must be done accordable. You see some of Igbo artistes do married for long without bearing a child and they lives with their husbands peacefully, if it is Yoruba you know what they will turn that to, even the relationship can not last for a year. So there are some things you just need to ignore, because some of these people are nuisance, you just have to leave them with their problems. You don't have to have to follow them in insinuating, live your life and if you feel like telling people about your secret then you do and if you don't want to, you keep it to yourself. Thank God it is a joyful event, is not an HIV or AIDS, even it is what we don't pray for, it doesn't mean that that is the end of life for you, let alone of God's gift that million nears can not buy in the market. At least before the public were enlighten, I have seen an artiste that have abused me that she has two kids and I don't have any, in that case I left her to play her stupidity not until when she got to know that I have thirteen years old daughter and ever since then, they have been giving me the respect that I deserve. My baby is thirteen years not twelve years because she clocked thirteen on June 13th and people were like so Lizzy you have a baby that it is up to that with this your tiny stature and the reason for that its because things surfaces at a right time.
Earlier on, you said the baby was not with you, where was she then?
She was in the North.
With who?
No comment
Did you actually flaunt her at an event or how did they get to know bout her when they are not witches or wizard?
It was a rumour, I don't go to parties again and if I must go, not with her. May be probably when we go to cinemas I wouldn't know.
Do you also encourage her to storm locations with you?
I have never forced her to do so; it is all about choice, and you, being a star doesn't suggest that your child must a star too. And she can surely be if she works harder in her endeavours. If I am writing a script, she will tell me that Mummy, I feel like starring this film and I always tells her to face her study first, she just manage to have the degree first, if cares are no taking, our job will takes everything from you even without being educated. And featuring kids in a movie, though it is good but probably they get to certain age that when the fame comes, they may end it up not to be serious and that is my own point of view. So I wouldn't want such things to happen to her, because I have just only her and I pray to have the best out of her.
You haven't really told us how the rumour merchants went out with the rumour that they are not living with you. So, tell us who revealed the secret to the public?
Actually, I don't party, during her vacation from school, I took her to location before she resume back to school.
No doubt is the fact that Nigerian actresses engage in unpleasant acts like Allen job at locations, now you taking your daughter to locations, don't you think she will learn from them?
Not at all, infact, during the time she was with me at location, I had a very challenging scene; she was just laughing after me and said could this be my Mum? She couldn't belief her eye because the mother she sat down with for like three hours turned something else. There was one we had in Ibadan where I was wearing bears on my chicks to look like a man, after the costumes she was asked that who was that who was said that and she said she look likes her mummy, so that day she experienced how hard our job is because it wasn't too comfortable. When we had night shoot she slept in the car because there was nobody to take her to the hotel that we lodge in because it was far from location and she was like mummy, I never knew that your job is difficult like this.