DEATH AT THE LAGOON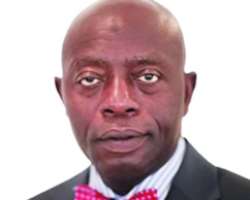 •Abaniwonda
Intimate details about the life of Mr Al-mustain Alade Abaniwonda, who drowned in the Lagos lagoon, have emerged. Mr Abaniwonda, 56, fell into the lagoon last Monday near a marine police station and his corpse was recovered about three days later on Wednesday.
Sunday Sun in an exclusive interview with the children of the deceased, the driver with him at the time of his death and some other family members revealed that contrary to the insinuation in some quarters that he committed suicide, nothing could be farther from the truth.
They also maintained that the deceased was contented enough that nothing could frustrate him to want to take his life just as he was very God-fearing and humble.
The first child of the deceased, Miss Raqeebat Abaniwonda, an Accounting Economics graduate from the University of Kansas, United States of America, who worked with him, disclosed that her father said he was asthmatic and diabetic and as such he hardly ate but that each time he took snacks and juice, he urinated frequently.
She added that sometimes whenever the man returned from work, he rushed straight to the convenience.
Raqeebat, who was apparently troubled by the incident but said she took solace in the fact that her father had etched his name in many people's mind as a result of his humility, explained that on that fateful day Mr Abaniwonda just wanted to go and urinate but that he slipped off the riverbank and fell.
'He was coming from Apapa. He had actually closed for the day but somebody was waiting for him in his office. So he was going to the office. He just stopped to ease himself. He had wanted to use a makeshift toilet there where people normally pay to use but the man in-charge was not around. That was why he decided to go to the riverbank.'
She added that her father did not know how close he was to the lagoon before his leg slipped and he fell.
According to her, what made it difficult was that her dad had phobia for water as he could not swim at all despite coming from the Epe part of Lagos, which is surrounded by water.
She however claimed that the man would have actually survived if marine policemen just behind where the incident happened had responded as a call of duty to save life.
The late Peoples Democratic Party (PDP) stalwart's daughter further stated that while her father was struggling in the lagoon, the police claimed that they had no fuel and no diver to help but if they could pay they would assist them.
Describing everything that has been said and written about her dad as complete fabrication by the police to close their track and inefficiency, Raqeebat said contrary to some reports in the media that he took off his clothes and jumped into the lagoon, the man had on his clothes and shoes as at the time he fell and when his corpse was eventually retrieved they were still intact.
'When the corpse was recovered the shoes were still on his legs. He still tucked in his shirt with his belt firmly on him. The only thing that was undone was the zip of his trouser,' she said.
She described her dad as someone who loved fashion, adding that the family would miss him seriously. He was a special person with quintessential character.
Her words: 'He instilled humility in us. He taught us to be contented. He exemplified humility and contentment. He was a good man with a good heart. He had no secret and he brought us up with fairness and he was also fair to all. He lived to make everybody happy. You cannot even know that house helps from his own children. His only indulgence was that he liked fashion and that was the only concession he made for himself. Every other thing was about us.'
Continuing her effusion of love for the deceased, she added: 'We will all miss him. He had so many plans of what he wanted to do. For everyday I have been alive I have a good story about my dad. He could not even lie to me.'
She also said he was so disciplined that he was a teetotaler and would neither drink nor smoke but always took a walk in the morning as part of his daily routine.
The family, she added, had however decided to take solace that God only knows why her father died at the time it happened.
Confirming the circumstance of the death, his driver, Ganiyu Wasiu, maintained that his former boss was a very stable and contented man and that he was only going to urinate but unfortunately fell into the lagoon.
He said he was attracted to the scene of the tragedy after he noticed that people were going to the lagoon side and a man came to knock the car that his boss had fallen into the water.
Immediately, he said he dashed out of the car and headed to the lagoon side but because there was a little demarcation he had to jump over, which was the police wall. Pronto, a police by the lagoon grabbed him, took him to the counter and asked him to write statement.
'I was pointing that my Oga (boss) was the person that fell inside the water and I was just looking out how he could be rescued but the policeman still grabbed me and arrested me,' he said almost tearfully.
Wasiu also argued that if urgent action had been taken his boss could not have died. From all indications, he was yet to come to terms with what happened.
Also speaking amid occasional sobbing, Abaniwonda's last daughter, Dasola, said her father was so kind and unassuming that apart from his biological children (four in all – three girls and a boy), he also had over 50 other children that he cared for.
'He is kind of person that if he sits here for four hours you won't even know that he is the one there. He was always caring. And he brought us up to also care for people,' the 17-year-old 200-level student of Maritime Law at University of Nothingham said, reiterating as well that reports imputing all sorts of meaning into her dad's death were not true.
Dasola, who said she would be going back to school in September, added: 'I will miss everything about him – the phone calls, the financial support and the caring.'
Perhaps as a proof of his humility, the Abaniwondas' home at Victoria Garden City has become a Mecca of sorts as sympathizers troop in daily to share in the family's grief.
Obaniwonda contested the last general election as senatorial candidate of the PDP in Lagos East Senatorial District.