There is no vacancy for a man in my life now –Actress Susan Peters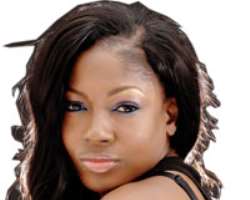 Susan Peters is a Nollywood Actress from Benue state of Nigeria. She is one of Nollywood's Star actresses with a rising profile and she has been on the scene for close to a decade with over thirty movies under her belt. She belongs to the new generation that are poised to take over. She is an enterprising lady who is involved modelling and make over.
She started acting in 2002. Susan grew up in so many parts of the world. She speaks many languages fluently.
She started modeling in 2003 and has done so many adverts such as billboards, Tvc, Press, Handbills and many more.
Recently, she won the Best Actress Award and some of her movies include: Sound of Poverty, Wicked Intensions, Stone Face, Spiritual War, God Mother, Nollywood Hustlers, Bursting Out, 30 days, Mortal Attraction; and many others.
Susan also played a lead role in the popular African TV series, Domino, which was produced by Tajudeen Adepetu. She played Eniola Lord Williams, which brought her fully to lime light, alongside Kalu Ikeagwu, Kate Henshaw-Nuttal, Segun Arinze and other A-list stars. Susan starred in U.S. as well, another TV soap called Disclosure produced by Blessing Effiom.
In this interview, she answers questions about her job, her family and acting.
You celebrated your birthday recently with the creme-de-la-creme in the movie industry. How has life been with you?
Well, I thank God! He added another year to my life and I decided to mark it. I held it in Abuja this time around and my friends turned up to support me. Because I am in the entertainment industry, an actress in Nollywood, naturally most of my friends and colleagues were there for the party and when we get together, we make sure we have a good time.
Someone would have thought of giving back to society as a way of celebration
I believe in giving back to the society . I have a couple of charity works I'm doing . I visit the motherless babies home with gifts and very soon, I will do the foundation launch of Susan Peters Foundation.
What was the last project you worked on?
The last project I worked on was concluded last week and was titled The Search. And I'm doing another shoot in the United States this month.
So much has been happening in the movie industry in Nigeria, how would you assess the industry today?
Well, as you rightly said, a lot has been happening in the industry and one of the developments have been movies going to cinemas now. It wasn't like this in the past and this has helped the industry tremendously.
This way, film producers are able to recoup their money. We have had 'Ije', 'Tango with Me', 'Kiss and Tell' and I know many more are coming. The industry is definitely improving. We can only get better really as the world's attention is on us.
What would you have been if you are not into movies?
I would have been a business woman. I actually still have a boutique in Kaduna and acting has not shut down that business aspect of me.
There are lots of tales about sexual harassment in the industry. Did you ever experience it?
I don't think it is only in the entertainment industry that they have sexual harassment. There is sexual harassment in every industry and Nollywood is no different.
I have been very fortunate not to have experienced that but I can not say it doesn't happen. But in my years in the industry, I haven't slept with any man in my bid to get a role. It has never happened.
Are you in any relationship?
Yes I am.
Would you want to talk about it? When will wedding bells ring?
No, I don't. It's my private life and I like to keep my private life private. But there is a man . So, I'm not searching . As for wedding bells, they will ring someday and when they're about to ring, you can trust that you will be the first to know.
To what would you attribute the high incidents of divorce in the entertainment industry?
I think a lot of Nigerian men cannot handle it when their women/ spouses are more successful than they. No man would admit this. Everyman would definitely say he can but in actual fact , many cannot.
It's not really easy. How would you handle it when your wife gets more attention, accolades and makes more money than you? Or when you are known as Mr Your-wife's-name? So, you sometimes hear stories of quarrels, and even beatings. Of course, there are always two sides to a story but it does take a special man to handle a successful woman in entertainment.
There are also misconceptions about women in entertainment and I think that is the issue really. Having a woman in the limelight is not easy. Some men don't know how to cope with such women.
What are some of the challenges you have encountered as an actress?
I haven't really experienced many challenges as an actress. I'm grateful to God for that. I would say that so far, the lines have fallen for me in pleasant places.
What were your most challenging roles?
There are many but there is the most outstanding one. I would say that it was a character I played with a Ghollywood actor. I think that would be as a character called 'Ibiere' in the movie 'Bursting Out'.
She was supposed to be a very wild, street-wise girl that had to show her boyfriend pepper. In this case, my character's boyfriend was played by Ghollywood actor, Majid Michel.
The first time we shot the scene where I sparked at him, Majid was so shocked at my outburst that he could not respond for several seconds! (laughter). He just stood there looking at me, dumb-founded.
What are you working on currently?
I'm working on my new fan book and I'm preparing for a trip to the United states for my next shoot. So, I'm really busy.
A new trend is cropping up in the Nigeria movie industry: partnership with foreign movie-makers or actors. What do you think about this ?
I think it's a good thing. Its very good for Nollywood. We get to learn from the foreign acts and I believe they get to learn from us too.There have been landmarks in this regard and that has helped Nollywood.
As you can see, it is no longer business as usual. Most of the movies being released are going through the cinemas. Otherwise, it won't be rated.
Movies like Through the Glass, Ije, Kiss and Tell, Tango with me, Reloaded,Bursting out were box office hits. What would you say makes these films distinct?
Well, what helped them were the scripts. A good movie begins with a good script. These movies you mentioned had great scripts. Secondly, they were professionally produced.
The actors too did a good job of interpreting their roles. And of course, the directing, editing and marketing were perfect. Everybody who had anything to do with the movies did their best.
Let's talk about growing up. How was it?
Growing up was fun. My childhood was under the strict supervision of my parents. My dad used to be in the military and so our house was always like a military camp. I grew up with my siblings and things were very okay. We moved around a lot and that makes it possible for me to speak the major Nigerian languages.
Did your family background influence your going into movies?
Not really. I wouldn't say my family background influenced my going into movies but I will say acting was accidental. When I was running my shop in Kaduna, a movie producer asked if they could use my shop as a location for the soap opera they were shooting. I agreed.
Later, the person asked if I would like to act in the soap and I said, 'Why not?' and that was how it all happened
So, what are you? Mummy's or daddy's girl?
They both love me. I am very close to both of them.
If you have the opportunity, what would you change about your life?
I wouldn't change anything. My life is just perfect.In life I have no regrets.
Are you a strict person?
Sometimes, I get very strict but not all the time.
Have you had any experience that made you cry?
Yes. When we lost everything at some point.
Was it an embarrassing moment?
Not really. I don't think I have had any embarrassing moment.
What about happy moments?
Of course. What about being alive ,hale and hearty with my family and friends;being able to thank God everyday is always a happy moment for me and my family. There is nothing as sweet as the gift of life.