'WOMEN SHOULD STOP BEING SUPERSTITIOUS'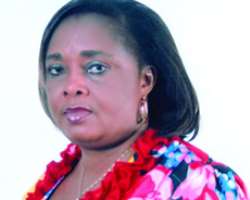 •Ezenna-Aniagu
Oby Ezenna-Aniagu has contested for House of Representatives twice and lost. Despite that, she is still not tired and is even eyeing the Senate. She believes that her contribution would go along way in shaping the lives of Nigerians. So, she is determined to continue until her dreams come true. In this interview with Saturday Sun, beautiful, elegant and amiable Oby tells why she lost in the 2011 election and other issues.
You contested for the House of Representatives and lost. What could be the reason for your failure?
I never failed. I simply did not make it because ACN rigged me out. I defeated ACN in about five local governments but at the end, they turned everything down. They announced what pleased them because they are on seat. Every other politician in other parties know what happened in Lagos State during the election. That was why I did not make it.
Was this the first time you contested for any position?
It was my second time. I contested for the House of Representatives in 2007 and came third as announced. In this 2011, I contested for the same position and was given the third position again. However, I knew too well that it was not my position.
How was the experience?
It was a fantastic one. It is an experience everybody needs to have. Being a politician exposes and opens one's eyes to the things going on in the country. It gets you acquainted with issues in Nigeria. It also helps you to know how things ought to be done. You will alsoknow the secret things that are being perpetrated in this country. I cannot enumerate all I have known here, but it has been an eye-opener to me.
Would you contest again or have you given up?
I am just beginning. I will not let go until I am elected. I want to make a change in this country and that is why I cannot give up. No matter how long it takes me to get elected into that position, I will not rest. The time when women are at the back seats are over and the change the nation needs in some areas would be made by the women. So, I am just starting.
Under which platform did you contest?
I contested under the platform of All Progressive Grand Alliance (APGA).
Don't you think the party may have affected you, not being a leading party in Lagos?
Not at all. APGA is one of the leading parties in Lagos State. It did not affect me in any way. APGA is a national party. It is one of the third leading parties in Nigeria which are APGA, PDP and ACN.
Were there things you could have done before the election that you did not do?
I did all that I was supposed to do in order to win. I have told you what happened and that was exactly what led to my defeat.
What gave birth to your interest in politics?
My major reason is to help the masses. The people of this country are suffering and it gives me great concern each time I see people begging for food. Even our children have resorted to prostitution and armed robbery because they are unemployed. I feel the pain because I am a mother. There is need for a change because we have suffered so much in the hands of PDP.
Have you been wooed by any man since you became a politician?
I have not been wooed. All these depend on what you want and how you carry yourself. I am a married woman with children. I know the reason I joined politics and until that dream is fulfilled, I will not relent.
There are lots of speculations that women in politics flirt a lot. How true is it?
People just sit down in their homes and say what they like. If such is said about politicians, what would be said about bankers? Let me tell you, prostitution or flirting with men depends on individuals and how they want to live their lives. It is wrong to generalize issues like that. That a particular person is known to be going out with a man in an organization, does not mean that every woman there is doing the same. We are there to play politics like the men because what a man can do, a woman can do even better. Their criticisms will not deter us because men are not being criticized. Let them continue to talk while we pursue our dreams. Tomorrow, they will still be the ones to blow out trumpets.
Could it be Fashola that masterminded the rigging?
I cannot say, but if you check very well, you will discover that no party has ever won all the seats in the state except in Lagos State. With that, you would understand what I am saying. Fashola may not have a hand in it, but it is quite impossible if it was not planned. Yet, it was not that other parties were not strong enough to carry the day. They won, but it was not given to them.
How would you describe the conduct of the election?
INEC Chairman, Prof Attahiru Jega tried. The 2011 election was the best of the elections we have had so far. It was successful. I praise Jega and pray also that God would continue to give us people like him in subsequent elections.
When the result was announced and you lost, how did you react?
I did not lose, therefore, I did not react in any way. I knew what happened, so I was not moved by their tricks. If they had given me what I scored, I would have been in Abuja now. I did feel bad because I knew that people voted for me. It pleased God but I know that everyday is for the thief and one day would be for the owner of the house.
Is your husband a politician?
No he is not, but he supports my interest. He supported me in every aspect that a husband should support a wife and that included moral and financial support.
You are the women leader of APGA in Lagos State. How has it been leading the women?
I don't have any problem with them. They are very supportive which makes it easier for me to coordinate them. They are fond of me and anytime I call on them, they respond. I commend them greatly. But of course, coordinating women is not usually easy because of their stubborn nature. Some would support while some would not because of envy and other things, but I thank God that majority of the women in APGA supports me.
What are the benefits of being the women leader?
I was the welfare officer before I became the women leader. The position has really exposed me and has brought me before men and women of substance. Since I occupied this position, I have been to places and have met with the highs and mighties in the nation. I have been to places and with people I never thought I could be with in life.
How long have you been a politician?
I have been a successful politician for nine years and I don't intend to retire until I contribute to the changes that would take place in this nation.
Is the Women For Change Initiative by Dame Patience Jonathan helping the women in any way?
In a great way, it has helped the women in achieving their dreams in Nigerian politics. The First Lady, Patience Jonathan so far, is the only first lady that remembered the women candidates that contested during the elections. It has not happened before. They all received support both morally and financially from her. She is the only first lady that took it upon herself to remember and carry women along. She is indeed a mother and a plus to Nigeria. She has a good heart and I know that her husband's regime would bring a lot of changes in this nation, because, she would be advising him and bringing his attention to issues that concerns the women and children.
Do you think Jonathan fulfilled his promise of conducting a free and fair election?
Yes, he did. Do you see what happened during the election? There were lots of killings and bombings all in a bid to pull him down but God cannot be mocked. Look at what is happening in the Federal House. If it were before now, Tambuwal wouldn't have emerged the speaker. You can see that Jonathan's presidency would bring a lot of changes and expose a lot of evil going on in this country. If not that he fulfilled his promise, Rochas wouldn't have emerged the winner in Imo State and such also happened in other states. Jonathan is a different person. He is so humble, meek and intelligent. I know that change has come for Nigeria and even after his regime, we would not go back to those dogs that have destroyed this nation in the past. The election was free and fair and even the united nation that monitored it supported the conduct.
Women seem to be afraid of politics. What do you have to tell them?
That is why I told you that Patience Jonathan is a mother. She used Women For Change Initiative to pull women all over Nigeria out of their shell. She has really spoken to the women and today, they have got the confidence and boldness to challenge the men. You can see that the number of women that contested for election in April were much compared to the number we had in the past. So, all I am telling the women is to gird their loins and support their fellow women in every area. In the past, women have been sidelined, but this time, it would not happen because the first lady is active. We are now fighting for our 35 per cent and we will get it.
A lot of women contested and some lost. What's your advice to those that won?
All I would say is that they should remember those that lost. They should realize that it is not by their power that they won but by divine providence. Some lost a lot of money in doing the campaign. Some lost their businesses and some their husbands are abusing them. So, I would want such people to be remembered and I also implore them to work hard to see that they make some changes irrespective of what they may encounter.
What can you say about what happened in Imo state election?
What happened in Imo State is a lesson to every Nigerian. Whatever you want in this life, you should pursue it and make sure you get it. The people of Imo knew what they wanted and they pursued it. The problem we have is that people sell their consciences and vote for people even when they know that they are not good enough. Imo people are liberated. Upon all the money that was shared to them, they still voted against the giver. It is a good development.
What was your growing up like?
My growing up was tough. I grew up in the village, schooling and farming at the same time. My parents were not rich so it was survival of the fittest. I struggled, worked hard and assisted them in so many ways. Then, it was only the rich that could afford rice. We were eating fufu, abacha and those local foods. However, I come from a good and respectable home.
What's your family background like?
I am from a family of four and I am the first. I hail from Abor in Udi Local Government Area of Enugu State. I am married to Mr. Dennis Ezenna-Aniagu from Awgu in the same state. I have six children- five are in America, one in Nigeria.
What has motherhood taught you?
It has taught me to be very calm, soft minded and caring. There were things I would have been doing or how I would have been reacting to some issues but when I remember that I am a mother, I would relax and let go. It has made me to be very watchful knowing that my children are there to learn from me. I teach them good behavior so that when they marry, they would be happy and I thank God that my first daughter is happily married.
What is unique about you?
I am a very sociable woman and very plain too. I told my women that I will not be a party to gossip. That is why I don't have a permanent enemy or friend. Even when I was doing my campaign, people were convinced that I was telling them the truth. I told them what I could do and I was willing to do it if I had made it. I don't keep malice and that is why if anyone offends me, I would say it immediately and there it would end.
What turns you off and on?
I like people that are sociable and I don't like pretence.