Beauty pageantry wears new colour in Nigeria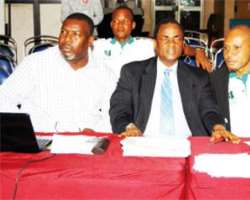 For the first time in Nigeria, a beauty contest would seek to go beyond the norm in beauty pageantry by inculcating talent hunt into beauty contest in a competition the organisers say would further enrich Nigeria's growing music, movie and modelling industry.
Beyond the runway show that is characteristic of beauty contests, the organisers have added search for girls that are especially talented in modelling, singing and acting into the beauty contest with a view to giving the winners a lifeline afterwards.
A very interesting disclosure about the contest tagged New Nigerian Diva Beauty pageant and talent hunt by the organisers is that there are no age limits, just as the grand finale, which would involve a stage contest does not involve bikini show.
The contest is a brainchild of View Trend Entertainment Ltd, an entertainment outfit run by moviemakers in the mould of directors, actors, producers among other classifications in the vastly improved and popular Nigerian movie industry tagged Nollywood.
About one week ago, no fewer than 100 girls from various parts of the country and outside Nigeria gathered at the event hall of White House Hotel and Halls, Ikeja, Lagos, for the national screening of the contest.
The girls who arrived Lagos from not less than 20 states across Nigeria gathered at the White House Hall from as early as 9am for the national screening, which lasted for most of the day.
At the end of the day, the judges comprising the Head and Chairman, Department of Mass Communication, University of Lagos, Professor Ralph Akinfeleye, renown actor and immediate past President of Actors Guild of Nigeria (AGN), Mr. Ejike Asiegbu, popular actress, Benita Nzeribe, movie directors, professional fashion designers and music experts picked the first 30 finalists who would move into a house for further screening prior to the grand finale.
Nollywood movie producer, director and chief executive officer, View Trend Entertainment, Mr. Dozie Eboh, who spoke on the innovations, as introduced by New Nigerian Diva, said, "The national screening is the first step in the contest, which seeks to redefine the concept of beauty contest and talent hunt in Nigeria."
Speaking further on the innovations brought into beauty contest through New Nigeria Diva, Eboh said, "The New Nigerian Diva is truly a beauty pageant because there is going to be a stage contest. However, it seeks to find in the eventual winners, special talents in singing, modelling and acting that would earn them a good means to a better future."
According to him, the NND is a concept that hopes to raise the stakes in the entertainment industry, as it is expected to help the contestants actualise their dreams of acting, singing or modelling, while also opening the door for even those who did not make the last three.
He said, "New Nigerian Diva is the first beauty or talent hunt event of its kind in Nigeria that will carefully select and feature a group of undiscovered Nigerian beauty queens, models, actors and musical artistes to an international panel of iconic top models, world renowned modelling/talent agents and scouts, fashion buyers, famed music executives, film producers, directors and array of media outlets," adding that it is going to be a highly motivated competition among the participating girls.
The organising committee is made up of notable showbiz individuals like Ejike Asiegbu, Nonso Diobi, Benita Nzeribe, Bolaji Dawodu, Ngozi Ezeonu, Benedith Johnson, Mohammed Abdullahi, among others.
Eboh said, although the contest is open to all, regardless of age and status, it is primarily intended to give better lives to females who may have been inherently endowed in any of the three areas, as a way of encouragement for other girls in Nigeria, regardless of their disadvantages.
"To ensure that the contestants are comfortable with the stage, we have decided to exclude bikini and left the age limit open. We are also looking forward to making girls with humble backgrounds rise above waters to become stars and real models in the true definition of what a typical African woman stands for," Eboh stated.
According to him, the eventual winner would have scaled some stringent criteria, which include cooking skills, carriage, attitude, and intelligence among other traditional values that make a woman acceptable in a society like Nigeria.
Winner of the contest would get three lead roles in not less than three movies, a recording deal or modelling contract, depending on her talent. She is also to get a brand new car and wardrobe allowance worth N200, 000. The first runner up gets three sub-lead roles and recording or modelling contract, a laptop and N100, 000 wardrobe allowance. The second runners-up would get two sub-lead roles, a tabletop refrigerator and recording or modelling contract.
Asiegbu, who is also Special Adviser to the Abia State governor, presided as chief judge on the day. Also in the team of judges at the screening is former president, Association of Movie Producers of Nigeria (AMP), Mr. Madu Chikwendu, among other notable figures in the movie, fashion and entertainment industry.
Asiegbu, who spoke on the innovative approach to beauty contest as introduced by the New Nigerian Diva said, "It is not questionable that the other beauty pageants being staged in Nigeria are doing well. But I must also point out that New Nigerian Diva has brought some creativity into beauty pageantry that will definitely up the bars and add some light to the entertainment industry."
According to him, the organisers must be encouraged to sustain the concept and probably improve on each edition.
Akinfeleye, who was special guest at the screening exercise, said the New Nigerian Diva represents a new concept in beauty pageant that extols female empowerment, hence should be adopted by the government.
"This is a new concept that would empower the females. It is my advice that the Ministry of Women Affairs of all states and the federal level should adopt it as one of their programmes that seeks to give meaningful empowerment to women who are gifted but not given the opportunities to express their talents," Akinfeleye said.
Speaking further, the don said the New Nigerian Diva provides additional ground for improved campaign on the rebranding Nigeria initiative, hence called on the government to buy into it.
Nzeribe, who took time to speak to the girls at the event said, "This is a huge opportunity for you girls to step into the big screen, earn a good living for yourselves and move above the influence of the society which gives females little or no chance for survival."
Some of the chosen contestants who never had the opportunity of stepping into this kind of big contest before in their lives, expressed joy at their selections and are upbeat about stepping into the house where they will be closely monitored and accessed for further screening. The 30 shall be pruned to 15 who will eventually go in for the grand finale.
According to Eboh, the 15 would be screened by judges, who would be looking at salient characteristics that define a true woman in African context.
"Morality, discipline, beauty, cooking skills, housekeeping are some key points that would determine who wears the first New Nigerian Diva Crown in a few months," he said.
Becky Ecla, from Gombe State, an aspiring actress, is one of the 30 girls selected to enter the house. Speaking in an interview after her selection, she said, "Wao, I can't believe that I made it to the next stage. Coming all the way from Gombe State to contest among other girls in a game that is their own is a big issue. However, I am ready to give my all."
Also, Martha Evba from Delta State said she never believed she would be given an opportunity to enter the house to contest alongside 29 other girls.
"I really cannot express my happiness because being selected is like a surprise to me," Evba, who is an aspiring model, said.
Similarly, Blessing Isaac from Akwa Ibom State, who is angling to ward off the other 29 girls with her singing skills, also said she got on the screening to try out how far her talent could take her. This, she said, was against her belief. She was fortunate to be among the selected 30.
Meanwhile, the 30 girls that have been selected from the over 100 that turned up for the national screening in Lagos would be camped in a location in Lagos in a few weeks time, where their one week stay is expected to be fun, just as they are expected to learn a lot about female empowerment, skills development, entrepreneurship and other professional tips that would add some values to their lives while in the house.