ALLEGED FORGED CERTIFICATE: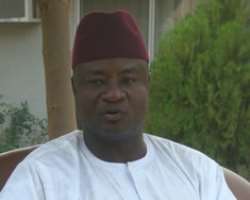 Senator Ibrahim Musa, representing Niger North senatorial district at the Red Chamber who was recently locked up by Police over alleged  tax certificate forgery had denied ever committing the offence .
Speaking with newsmen in Abuja, Senator Musa denied media reports that he was arrested, as he told journalists that he  visited the  police authority in Minna on invitation  and was not arrested, as earlier reported.
''I was not arrested. I was invited by the Commissioner of Police that I allegedly submitted fake tax clearance , based on the  petition by Senator  Nuhu Aliyu my opponent in the 2011 election.
I reported myself at the police station in Minna where I was told to present my photocopy of the tax clearance and  I did. They told me to sign on it and inquired if I have the original, I said yes. From there they took me to the office of the Commissioner of Police where they kept me waiting from 1pm -5:45pm. Niger Government alleged role Senator Musa described  his unsavoury  experience as  political witch hunting, by the ruling PDP government in Niger state.
''I sat there waiting to see what they were up to. Then a man came to ask, ''are you Senator Ibrahim Musa? 'I said yes. He said let us go to court and I said, court? I never knew they had arranged with the Niger state Government . They wanted  to incriminate me because  I defeated them in the election. The Commissioner of Police foolishly allowed himself to be used to incriminate me when I did not commit crime. If they think they can do that to me… I told my people that I will take this matter to a logical conclusion and I will fight them with my last blood.
Head unbowed
Let the Niger state government  use the judiciary ,and the government apparatus, they have a limit and I will fight them to preserve my integrity. Let them take me to prison again that will not stop me from fighting a good fight. They have projected my image because  I am now known all over the world through this case.
The motion I raised was about state/local govt. What I said was that the state government have rendered local government useless. Let us correct the abnormality, the government should not over ride the local government.
Boko Haram insurgence
Talking about security, things should be done right. Let the government invite the Boko Harram and do to them as they did to the Niger-Delta militants. Many things were done to them; let this be corrected so that they will not retaliate again. How can you arrest someone and kill him instantly without trial?