LATEST GIST ON EX SUPER EAGLES STRIKER,RASHEED YEKINI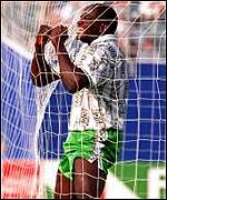 So many sad things have been heard about him in recent times,ranging from alleged mental stress to spiritual attack.But Rasheed Yekini,the once beautiful bride of the Super Eagles is gradually bouncing back.
Contrary to report making the round that he is homeless, he actually has a four bedroom flat on Ring Road,beside the famous Oni & Sons complex in the ancient town where he stays.
Though,he was said to have gone broke for years,the death of his confidant,one Ibraheem,a very wealthy bureau de change operator in Sabo area of Ibadan turned things for the worse for him.
The ex soccer star was reported to be leaning on Ibraheem for his financial needs,before the guy was hacked down by notorious armed bandits,who raided his shop and shot him dead.
The incident, it was further gathered, nearly turned him into destitute, as he had to cope with loneliness.
However, sources close to him informed us that his family who had initially abandoned him to his fate had come to his rescue.
He is trying to venture into a new business after unsuccessful attempts in the past.