MY BROTHERS BELIEVED I WAS TRULY WICKED BECAUSE OF THE ROLE I PLAYED IN FILM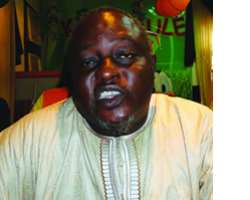 •Hakeem
Although films are make-believe, they have earned some actors and actresses curses and hatred. Rahman Hakeem falls into this category of actors. Owing to the role he played in a film, entitled Nnenna, his brother concluded that he must be wicked.
In this interview, Hakeem told his story. He talked about his upbringing in a polygamous home, revealing that polygamy did not allow him enjoy parental care. According to him, he suffered as a child in the hands of two step-mothers and neglected by a father, who loved his wives more than him.
Hakeem talked about his immediate family, his acting career and others.
You played the role of Uncle Biliki in Super Story. Was that your first role in acting?
I have been acting since Checkmate days. I played Dr. Kwami, son of Nana, the mother of the Heartthrob's family. I have been around for long and have done couple of good jobs. I have done a lot of soap operas and so far, I have shot over 40 soaps before I shot Nnenna. Also, I have shot over 100 home videos.
What negative effect did your role in Nnenna brought to you?
It is a kind of mixed blessing, because people took it to heart. The only people who did not believe it were the elite. People believed it to be wicked. The unfortunate thing was that my mother died around the time we were shooting the soap. I happen to be the first son of my mother and when my younger ones saw the film, they said they were not going to allow me touch our mother's belongings. They said that if I could do what I did in Nnenna, I must be a very wicked man. Also, people in the street would see me and curse me. Some would tell me that if I kill that woman, in next episode, they would make sure I pay. That was surprising to me. I had to start dodging and taking precaution. I received curses upon curses and I had to go to church to erase all the curses. It was not an easy thing. But it gave me more glory than the negative aspect.
Thank God that all those days are gone, but I am still going to play some hard roles. People have been calling me for hard jobs because of that role. If you continue to do simple roles, you would never be known. After I did Nnenna, someone asked me if I had joined them. I laughed because I have been in this, even while I was in the bank. I served Union Bank for 20 years and left in 1997. While I was in the bank, I was involved in acting. It was when I was doing my master's degree programme that I was approached to play a role in Checkmate. I was told that I speak good English and of course, you know that if you don't speak good English, you cannot make it in acting. There was also a role I played in Binta and Friends as Uncle Bayo. I played a wicked role in it but because it belongs to children, people did not take notice of that. However, I could be nice and romantic too if I am playing such role. I could be funny too. The film, Show Me Heaven, is like a comedy and I did a good job there.
There is a notion that a role one plays is in line with that person's real character. How true is that?
I tell you there are lots of things my people in Actor's Guild did to me. Each time they do it, they would be expecting me to react. But I would just laugh over it, but I told them one day that vengeance belonged to God. I do not want to fight my fight. I fought my fight when I was younger. Today, I would not fight my fight. If you are comfortable with what you are doing to me, keep doing it. One day, you would pay. For everything anybody is doing to his fellow human being, he is going to get reward for it. I see those things as a stepping stone to greatness.
What's the difference between Rahman Hakeem and the one who acts in films?
Hakeem Adekunle Rahman is a father of intelligent and well-behaved children that are making him happy in life. That is why I don't look back when I am spending on them. From my background, I have taught them the need to be straight-forward. I believe in doing the right thing and getting results. I don't believe in shortcuts to success. I am not surprised that I once went to the British High Commission and they gave me visa within two days. Some people go for it and in a month, they have not gotten it. It is not basically my making, but it is because of what I have been able to put in place.
While I was in the bank, my former boss always said one thing in our annual report while recommending me for promotion. He always said that I loved challenges. To be honest, I have been able to face challenges through hard work and I was able to face challenges when I was given a role as an actor. There was a day Chico Ejiro gave me a script for just few scenes; then on getting to the set, he said no, you are the one doing the lead role now. That was the biggest challenge. The title of the film is Ashanti. I did the job, finished all my scenes in the job under 24 hours. We finished at Badagry and the job came out very well and people loved the Ashanti. I love challenges and good things of life, but I don't want a shortcut to success. I believe in truthfulness and straightforwardness. That was the kind of upbringing my father gave to us.
I don't cheat people or make them sad. If somebody becomes sad because of my action, then it could be that I am trying to maintain the right path and he doesn't like it. But people that love right paths would always like me. Those who believe in shortcuts to life would never be happy with me.
They call it old school, but I don't see it that way. I only believe in what my spirit accepts. I will never do evil. I spent 20 years in the service of Union Bank and I didn't go to court. I am a retired banker and a pensioner. I still attend their hospital. I know scores of my colleagues who left the banking sector unhappy. Today, they cannot walk towards the door of the bank, but I can still go to the bank, attend their hospital, including my wife. I love keeping records too.
Could you give us a little insight into your family background?
My father hailed from Epe Eko, in Gbado and my mother was from a royal family. She was a princess. While my father died at 80 plus, my mother died at 70 plus, but I hope to live longer than them. As I mentioned earlier, I have good children. Where I come from, we don't mention the number of children we have. They always make me happy. I schooled in Corona Private School. Then, we were taught by the white. It was rare for you to see people having enough funds to send their children to private schools then. But my father had enough funds to do that for me and he told me once that I was the only one he sent to a private school because he loved me so much. I have some step-brothers, who were not happy because they felt they were shortchanged.
I schooled for seven years at Anssar-ud-deen primary School, Sabon Gari, Kano. That was where I learnt Hausa language. Some people still think that I am Hausa. They don't believe that I am Yoruba. I read Accounting at the University of Lagos. I am a member of Chartered Institute of Accountants and Bankers. I would say that I quit banking when I saw Bob Manuel Udokwu riding V-booth those days. As a banker, even though you are a manager, they would give you 505. I became so jealous and decided to leave the bank to engage in acting. I resigned from Union Bank to join acting. Today, I am happy with what I am doing. I get fulfillment here because it gives room for open doors. Things that I could not get as a banker, I get here. I have a couple of my friends then who are still there. Some of them envy me. They tell me that I have guts and can face challenges. They are afraid of coming out without having anything doing, but I have been able to withstand the pressure and God is doing it in my life.
You come from a polygamous home. What is your relationship with your step-siblings?
It is cordial, even though my father did not teach us how to come together. We still relate. We help each other and we have agreed to develop each other in order to remove poverty entirely from the family because, if one man is rich and others are poor, it means that you too are poor. We want to help each other make it, so that we will not have need to go to each other for help. We want to see everyone comfortable and contended in the family.
What has polygamy taught you?
It has taught me hot lessons. It was not cheap at all. It was a blunder. I would never try polygamy in my life. It is out of desperation that some of these women, go to native doctors to get a medicine that would kill their husbands or their step-children. In polygamy, you see unhealthy competitions. I don't pray for anybody to be in a polygamous family. But there are some families that are happy, in polygamy, it is surprising how they do it. Things are always bad in polygamy.
Was there any advice your mother gave you or something she told you that has helped you?
When I was younger, I used to be a stubborn child. I wasn't even listening to any one. Any child that would be successful in life seems to be stubborn. Successful people don't usually listen to others. They want to do things their way. Your father would want you to be a doctor; you would say no. My father wanted me to be a doctor, but I actually went into acting. It is part of being stubborn.
When I left school, as young as I was, I became a boxer and my mother started chasing me around to get me back to school. I have a very stubborn nature. But because of polygamy, I left my father and step-mother in Kano, took a train to go to my mother. But my friends, who knew about my plans, gave hints to my father and my father came looking for me. He met me in Kaduna and brought me out of the train. I was such a naughty child because of the treatment I was getting.
You can imagine, son of a rich man going to school without shoes because his mother was not there. I used to fetch water for my step-mother and her children. I would fetch water from morning till night. I used to be very brilliant, always taking the first position. My father didn't see it as anything. My father had 16 children. So, if you come first in class, it did not mean anything to him. It was because of those treatments from my step-mothers that made me run away. When my father got me back from the train, they prepared tea for me, with more than enough milk in it. It was something I had never experienced before. Nevertheless, I still insisted on going to see my mother.
Then, my mother would send something to us, but they would not want us to see it. I was just 10 years old taking care of my younger ones without my mother. Whenever, my mother sent something, they would not give it to us because they believed it was charm. Whenever I received anything from her, by myself, I would hide it under the staircase and take it, little by little, when going to school. I would also give my younger ones. But the unfortunate thing then was that after giving them, they would report to my father and step-mothers. It was a nasty experience. It is not good for a child to pass through all that because it gives nothing but pains. All these made me to really wanted to fight all my enemies.
Why was your mother not living with you in Kano?
She separated from my father. My father had earlier married a woman. He left this woman, after she had given birth to six children: Four boys and two girls. Shortly after the woman left, my father married my mother. Things turned out good for my father. He started living big. You know what it means to live in a flat then in the late 50s and early 60s. My father forced my mother to go to Mecca, not knowing that he had an ulterior motive.
In my mother's absence, he had made an arrangement for the first wife to return and he married a new one too. My mother, on coming back, met two wives. She was so confused and could not believe what she saw. She brought out the document my father signed that he was not going to marry another wife. She was so much in pain, and lamenting. I was full of pity for her and while I watched her go through the pains, I felt like killing them. The thing persisted until I was in secondary school.
My mother went to my father to claim all our documents, birth certificates and the rest. She told him that she wanted to have all that belonged to her children, but he brought cane and started pursuing my mother with it. It was then that I called the police and arrested one of my step-mothers. My father was madly in love with his other wives and he started cursing and abusing me. My mother was in pain. While she was in Mecca, they had entered her room and took all her clothes, jewellry and virtually everything that belonged to her. Polygamy is painful. Really, painful.
Did this affect your perception of women?
I am not afraid of women. I only respect them. I have had some bitter experiences of somebody breaking your heart and I have equally broken some other people's heart too. It is tit for tat, but at times, it is not deliberate.
You are the vice president of Actors Guild of Nigeria. How have you been able to handle the issues in the guild?
Well, we don't have issues anymore. The issues have been totally resolved. Cases we have in court have been thrown out. Segun Arinze is the national president while I am the deputy. Emeka Rollas is the secretary and Abubakar Sanusi is the P.R.O and May Badejo is the treasurer. We are still on ground. The issue of AGN crisis has been on since Ejike's Asiegbu's period, but today, we have been able to surmount it.
What would you say are your contributions in the guild?
Yes, my contributions have been wonderful, even to my amazement. I have been able to put in place structures in the South West. When I came in as the vice president, there were no state chapters of Actor's Guild in Lagos, Ogun, Ekiti, Ondo and Oyo. Today, I have been able to put it there and we have notable people, like Princess Dupe Adetiyo as Ogun State chairman. Jibola Dabo in Ondo; Olayemi Olayemi, in Ekiti; Adeyemi in Oyo and in Lagos we have Emeka. All these things came during my tenure.
What attracted you to your wife?
Her beauty. She is beautiful and intelligent. My wife is supportive. That lady is extremely intelligent and speaks good English.
Where did you meet her?
I met her as an actor. She was one of my fans, who loved what I am doing. She fell in love with me and today, we are the best of couples. Then when I was younger, I was not used to having relationships with actresses. I liked picking from my fans. She was one of my fans; we became friends and one thing led to another.
How long did you date her before you got married?
Less than six months. She is so good, very meek and merciful. She doesn't like to see people in pains. She had earlier asked me to help her and I refused. I asked myself why a woman should be asking me for help. I thought that perhaps, she wanted to run away with my money, like others. So, I ran away. At the end of the day, somehow, we came together again and this time she mounted pressure and before I knew it, we have tied the nuptial. She is just nice.
Are there things you would like to change in Nollywood if you have the opportunity?
People are not mindful of the pain of their fellow members. There are people who are packing all the money that belongs to the guild into their pockets, not thinking that other officers paid some funds to be executives. I don't know why, but the actor's guild today has painted the picture that only thieves are smart. Once they see money, they jump at it and spend it alone. But there is a saying that he who eats alone, dies alone. They will pay for it. I know that they would use the money to take care of sicknesses and problems, because all the problems we would have solved with the money would be packaged and sent to them. They would never know how and why. I don't believe in shortchanging people. If I have such money, it will be intact and I will like to release it to all the beneficiaries. But these people would deliberately deny you and it isn't good.
I don't engage in trivial issues. I don't do it. If you offend me, I will let it be because it is not my duty to fight and I do not want to take laws into my hands. No matter the offence, leave it to God, because if you fight your own fight, you will get hurt and you will be blamed but if God fights for you, you will just relax and culprits would be amazed at what God would do for you in return, to what they have stolen.
Have you ever done something that you later regretted?
That was way back when I was still very young. It was as a result of what we call youthful exuberance. Then I wanted to fight my fights and take laws into my hands. I was full of energy, so I was trying to exhibit it. These days, I don't do that. I am an old man. I am almost 50.
Are you fulfilled?
I am a fulfilled actor. I say this because of the satisfaction I get from being an actor. Fulfillment comes from the mind and contentment makes one fulfilled too. Some people have wealth and they are not satisfied, while some have just little and they are satisfied and contented. I have spirit of contentment and I am happy.
Have you been sexually harassed?
Yes, it has happened, but I ran away. I just survived it.
Could you please tell us how and what happened?
No.
What are your expectations?
I expect people to recognise works on merit and not by sentiments. I expect great things and to get what I deserve.
Have you had an embarrassing moment?
Yes, it was when a lady just stopped me and started shouting that I should pay her. Women used to do it then. She knew that I was a public figure and she felt I would be ashamed and paid her, but I refused to pay. I called the police and they arrested her. Some people think that we are cheap, but we are tough. We have passed through those stages. You don't just get stardom anyhow. So if people want to take an undue advantage of us, they are joking.
What is your most memorable day?
It was the first day I got my U.K visa within two days and I got my passport in one day too. All these things make me happy. People spend a lot of money yet they would not be given. It is a memorable day. I cannot forget it. As at the time I went for the visa, there were lots of stars looking for visa too, but mine came out first. I submitted today, and they called me to pick it the next day. When I told them I was called to pick it, my colleagues told me I must have been rejected because they could not believe it. When I collected it, they expected me to bring it to them, but I never did. What I did was to make a photocopy, got home, kept my passport and took the photocopy to them. It was just the work of God.
When you left banking for acting, what was your first experience on set?
My first film was with Chico Ejiro, in the film entitled 'In the street.' I felt nervous at the first attempt. But today, it is nothing to me. It just takes total commitment and determination to succeed. It was not cheap and easy.
Does your stature help you in any way?
It does. It helps me in getting some big men's roles. In this part of Africa, people believe that a big man must add weight, look big, dress in a big clothes and in all, look flamboyant. But that is a bad notion. However, it helps me in getting roles, like rich man and senators, such as I played in the Patriot. When I went to London, people commended my role in the Patriot. So, being big has a lot of advantages in my profession.
Could you please assess the entertainment industry in Nigeria?
It has gone haywire. Generally, all aspects of entertainment have gone haywire especially music. If you see the way we shoot our musical videos now, you would discover that they are not cheap. They spend up to N6 million to shoot a musical video. Even the picture quality is perfect, as if it is coming from abroad. If you also talk about comedy, it is great. People like Gbenga Adeyinka, Basket Mouth, Ali Baba and the up coming ones are doing well. They are all great. This country is blessed with talents and I pray that we would get a leader who would begin to harness these to the betterment of this country.
What is your advice to up coming artistes?
They should be prayerful and determined. They should not be carried away by the distractions in the industry. There are many things that can distract one, but whoever is distracted, can never achieve his or her dream. Ignore whatever you see in the industry and be focused. Pray a lot too. Each scene I shot, I prayed before I did it and when it is shot, my people would be smiling on set, and each time they do, I know that the film will be a bang. So prayer as the master key has a lot to do in our lives.