Jonathan Assigns 9 More Ministers Portfolios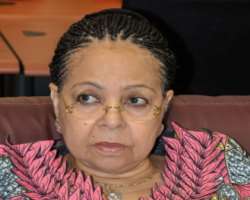 NEW MINISTER, LANDS AND HOUSING, MS. AMA PEPPLE.
ABUJA, July 14, (THEWILL) – Nine more Ministers were Thursday evening assigned portfolios by President Goodluck Ebele Jonathan.
A statement from the Secretary to the Government of the Federation (SGF), Senator Anyim Pius Anyim with Ref. No.PPR/OSGF/CG/01/43 and dated 14th July, 2011, announced the assignment.
The statement reads:
"PRESIDENT GOODLUCK JONATHAN ASSIGNS PORTFOLIOS TO MINISTERS
"The President, Dr. Ebele Goodluck Jonathan, GCFR has approved the assignment of portfolios to all the Ministers of the Federal Republic so far cleared by the Senate after taking their Oaths of Office and Allegiance as follows:
1. Dr. Akinwunmi Ayo Adesina, Minister, Agric and Natural Resources
2. Mr. Edem Duke, Minister, Culture and Tourism
3. Dr. Nuruddeen Mohammed, Minister of State II, Ministry of Foreign Affairs
4. Mrs. Hadiza Ibrahim Mailafa, Minister, Environment
5. Mrs. Omobola Johnson Olubusola, Minister, Communication Technology
6. Mrs. Sarah Reng Ochekpe, Minister, Water Resources
7. Mr. Nyesom Wike, Minister of State, Education
8. Ms. Ama Pepple, Minister, Lands and Housing
9. Dr. Mohammed Pate, Minister of State, Health

The statement further said, "The Ministers are expected to take full responsibilities for running the affairs of the Ministries assigned to them and assist the President in delivering quality service to Nigerians in line with the Transformation Agenda of the Administration.
Anyim Pius Anyim, GCON
Secretary to the Government of the Federation."