"Having Sex Regularly Extends Life Span by 8 Years"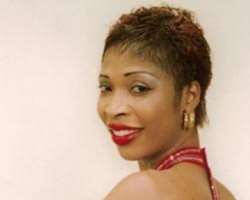 ...London Based Actress - Bukky AmosTop actress, international model, a director of Visible Productions and CEO of Bukky Amos Production, Bukky Amos does not hide her feeling when it comes to the matter of sex. She can go to any length to express herself and satisfy her emotion with her hubby.
Expressing herself recently on a matter of sex, this radiant and sexy actress said in a text forwarded to a friend that "Having sex not only offers pleasure, but it may also extend your life span by eight years. You probably don't need a scientist to tell you that regular sex relieves stress, improves sleep and increases intimacy with your partner. But it also boosts immunity and makes you look better. She researched further that a Scottish study showed couples with a healthy sex life may look up to seven years than those with a low bedroom ritual. She continues "the sum total of all those benefits may just be a long life. British researchers found out that men who had sex once a week were less likely to die in the next 10 years than men who had sex than once a month. Meanwhile, a Duke University study showed that, compared to women who were indifferent with their sex lives, women who were happy with their sex lives lived seven to eight years longer".
Bukky Amos began her acting career after completing acting and dancing course in London. She ventured into film production fully when she released her first movie titled 'Arewa' in July 2002. The movie was the best selling Yoruba film in Europe between 2002 and 2005.
So far, she had produced five movies titled 'Arewa', 'Tobiloba', 'Ta Lomo Arewa', 'Surulogba' and 'Babatodun'.
Bukky's biggest success is in the modeling career, having modelled for big fashion companies and tele-communication companies.