Why women don't distract me —Hyacinth Idibia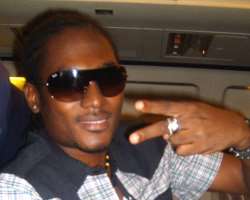 What gives him away is the striking resemblance to his brother. But his calmness and humility as well as his regular woven hair-style distinguish him. Hyacinth Idibia in this chat with AHAOMA KANU, opens up on his career as a member of the group, Da Natives, the music industry and how he has been able to keep a cool head despite being a brother to the popular Tuface Idibia
HYACINTH, you are on your way to Lagos from Calabar, what brought you to the South South?
I came with my brother, Tuface Idibia to the annual Cross River State Carnival for a concert we had yesterday. I performed with him.
How would you describe the carnival?
I have spent the past three Christmas celebrations in Calabar for all the carnivals and I have been enjoying myself all these while. It brings a whole lot of attention to Calabar and we have almost all the Nigerian artistes and also some international artistes here for the carnival. The carnival is colourful and the concept brings people from all over the country to be together. I will say the carnival is good.
Would you say with the trend, Calabar seems to be taking over from Lagos as the place to be during the yuletide?
Internationally Calabar is the place to be than Lagos these days; Lagos is more populated but Calabar has this class that I can't explain. In fact, I don't know what is going on but then I will not say Calabar is taking over from Lagos, it's just that it's less congested and movement is free, fast and easy than Lagos.
2008 will soon be history, tell me what you will remember most of the year?
Apart from the ups and down and the mishaps, 2008 was a good year. I will remember the turn the music industry has taken; this year showed that Nigerian artistes can go places worldwide without any shame. We can now all come out and say proudly that we are musicians.
Looking at the entertainment activities in 2008 so many new events came up; we saw the first edition of the MTV African Music Awards (MAMA), we saw Project Fame and others held in Nigeria, what advantage do you think our industry gains by having these shows held here?
It's just like bringing the World Cup to Nigeria; we stand to benefit a lot. Hosting these events in Nigeria gives our artistes more opportunity to showcase their talents to the whole world. For instance, if an award is held in South Africa, you will have more South Africans in the Award and less Nigerians but when it comes to your home, the reverse happens. It exposes more of our talents and makes the rest of the world to see the great talents we have in Nigeria and I am not talking of the big screen acts, I mean those underground.
Industry watchers are of the opinion that artistes pay more attention now to music videos than the real music itself; do you think this practice should be encouraged?
From my own point of view, a good song is always a good song; if you like you can spend N1 billion on a video, if the song is not good enough it will not move mountains for you. If you spend so much on a video, people will only come and say that's a nice video and the most you can get is to win the best music video of the year but that's all. You might have a wack song and don't have the money to shoot a video but my brother your song will take you places and make you win awards like best song of the year, the best lyrics, the best act and you have the opportunity of your song selling more. A good video helps but it's not all about spending all the money on the video, let the song announce you.
So what's your advice to up coming acts that might be thinking more about the video than the song?
I will like to advice them to pay more attention on their lyrics, their delivery and their composure more then anything else.
Many Nigerian acts fly to South Africa to shoot their music videos; will this trend help our music video industry?
Well, this flying to South Africa for music video production is a serious issue, maybe we don't have the technical know how and the equipments. I will still like to ask my fellow artistes why they are flying there. Are they saying we don't have the equipments to shoot our videos or is it the ideas and concepts? There are a whole lot of things we need to look at in this matter. Maybe the equipments are not here, who knows.
Prof Dora Akunyili has just been made the Information Minister and with agencies like the Nigerian Copyright Commission under her ministry and the track record she has, do you think the recurring issue of piracy will be adequately dealt with?
If that is her job, then she will be able to check it and improve on what we have now because we need that government support against these pirates. It is very bad for an artiste to sweat and make a song and somebody that did nothing to contribute to the project goes and makes copies of the songs to sell. There is money to be made in this industry and we need the government support.
You are the younger brother of Tuface and so big as he is you seem to be riding solely on your own pace as a member of Da Natives Group, how do you achieve that?
I will say it is the grace of God. Way back we started doing this music thing together but independently; he was in a different institution from the one I was attending but we did our things independently; we never came back to form a group. He was in his group while I was in another. As members of Da Natives, we are not so big yet, we do some shows with him; we learn from him as an elder brother. Once in a while I do shows with him.
How do you complement yourselves?
We complement ourselves morally, financially and otherwise.
Why have you not done a song together?
It is going to happen in the first quarter of next year. Even the individual members of Da Natives will release solo albums. You will get to see the song I did with Tuface next year.
You look so much like Tuface, do people usually take you for him?
It happens almost all the time despite my being on braids.
Which moment will you say is the most embarrassing moment of your career as an artiste?
There are lots but I remember this most, during the maiden Star Trek show at the zonal screening in Enugu, I slipped and fell off the stage while doing a dance choreography during a live transmission. It rained that day. I knew people were watching and felt like crying.
You have been able to keep yourself away from the tabloids and being the brother of a popular Tuface, how do you keep women at bay?
My brother, it is by the grace of God and besides, I know where I want to get to in my life and I have not gotten there yet. My dream is to become a man of myself, have my own record company and build a dynasty and I know I am not near there yet so I keep myself focused on achieving my dream, I don't let anything distract me from my objective even women. I know what I want in life.