No comedy without me – Opa Williams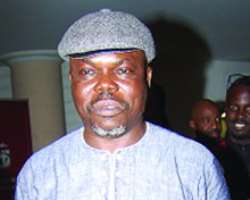 Right from when Opa Williams ventured into showbiz, he has been a success. From his behind-the-scene role as a co-ordinator of television productions, to movie producer, and then to his popular Nite of a Thousand Laughs comedy show, Williams has established himself as the man to beat in Nigerian comedy.
In this interview, the Isoko-born graduate of University of Miami, USA, speaks about the comedy business, challenges and his new project in Kenya. Excerpts:
My first show
I have been into showbiz since 1991. I completed my NYSC programme in 1990. I staged my first show with Edi LAwani and we invited artistes like The Mandators and Evi Edna Ogoli. Then, Edi Lawani was the Secretary General of the Performing Musicians Association of Nigeria (PMAN). But my naivety counted against me because the show held at Badagry beach which had too many porous entry points. Interestingly, I was only aware of one gate but to my utter dismay, when the show started, people were coming in from different entry points. I lost so much money.
Nite Of a Thousand Laughs
For the past 16 years, we have made a brand out of Nite Of a Thousand Laughs and we have been able to conquer the Nigerian market. We have never looked back. At this stage, we want to go international and become a multinational brand. We have been to London and Ireland once or twice. I am not a comedian but I own a comedy entertainment platform. We don't want to continue to do the usual rounds by going back and forth to foreign countries. For instance, Idols West Africa is a franchise of American Idols and the difference between both is that the one we see has been adapted to suit local audience. This is the time for us to start.
Partnership
We are in partnership with the Radio Africa Group, a media group with a network of radios, TVs and newspapers spread across East Africa including Uganda, Tanzania, Gambia and Kenya, among others. They have bought into the brand. In my recent trip to a couple of countries in that region, one of my biggest revelations is that a lot of Nigerian comedians like Basket Mouth, I Go Dye, Klint de Drunk, and Gordons are well known. I went to a night club in Kenya and for about 45 minutes it was Nigerian hip hop songs that were being played non-stop.
The Kenya show
My debut show in Kenya is scheduled for July 10 at Carnivore, a large cultural centre where you can find any kind of meat on parade. I found out that the country has been playing host to a show known as Nigerian Night organized by one Nigerian.
No comedy without me
Without trying to sound boastful, there won't be comedy today without Nite Of a Thousand Laughs. Before we came on the scene, what we had were comedy programmes done by the like of Papy Luwe of Awada Kerikeri. Today, stand-up comedy has become the most popular form of comedy in Nigeria. I am proud to be one of the forebears of this genre.
Challenges
At some point, I nearly gave up but I didn't. Some of the inspiring moments that kept me going were the encouragement I got from people like the late Elder Steve Rhodes. Baba would drive down to my office and buy his ticket for the show before anybody else. If at that point I had given up, what would I tell people like that? There are also couples who met during my show. For instance, I remember meeting this woman who told me she met her husband at my show and have since then been attending with their kids. When people believe in what one is doing, that is enough motivation to keep one going. I am humbled when I hear testimonies such as these.
Yoruba soap opera
I look out for the need of people and I fill it. I observe that a lot of non-Yoruba speaking movie lovers especially Igbos like watching Yoruba movies, of course those that are translated. I also realize that we don't have Yoruba soap on air. So, what I did was to fill that gap. Somebody said it won't sell but out of the four soaps I have running at the moment, Abelejayan has generated more feedbacks than any other.
On competition
I started Nite Of a Thousand Laughs because everybody wanted to laugh and then again, the show comes up once in a year. Interestingly, people keep referring to the other shows as Nite Of a Thousand Laughs. Funny as it may sound but it does happen. Once you are up there, the only thing that will sustain one is to keep re-inventing. I have observed that people that come for Basket Mouth's show are different from those that come for AY's show. Once we identify our audience, we try to satisfy their needs.
Funniest comedian
I give it to Gandoki. If you go round and ask other comedians, they will tell you the same thing. With an ordinary story like I am going to the airport, Gandoki will make you laugh and laugh till you can laugh no more. For me, the right word to describe Gandoki is spontaneous and not funny.
On my grey hair
I was in Ghana and I saw this young guy on the road, he has grey hair all over him. I approached him and he told me how he cultivated the grey and that was how I started. It took me two years to grow my grey hair. Yes, you can call this my new style. (Laughs)
My pastor's wife
My wife is a pastor of a church. The Bible says, 'go ye and multiply', create joy and happiness. What I do is to create joy and happiness. Nobody comes to Nite Of a Thousand Laughs and leave the same way. In a way our jobs as husband and wife are related.