Me, act nude? Never.......Ameze Giwa-Osagie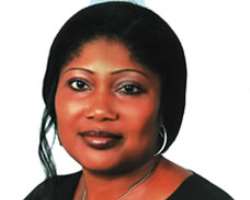 Ameze Akin-Sodipo (nee Giwa Osagie) played the role of Ebiere in the now rested soap opera, Mirror in the Sun. She left for United States to school and work only to return to discover that the movie industry has grown beyond where she left it.
SAMUEL OLATUNJI met the mother of two and she shed light on what acting used to be and what it is now. She did not look the other way when we asked question on issue of posing nude.
When you left Nigeria there was no home video industry, but by the time you came back, there is a virile industry. Do you feel you miss a large chunk of the action?
No, I did not regret leaving. But what I feel is that I shouldn't have stayed for as long as I did. I would have loved to come back to Nigeria sooner than this. I didn't miss going because I went to do something better for myself.
Did you miss not being part of the growing home video industry?
In a way, yes. I said so because even a lot of movies that have been produced over the years are not wonder to see. Of course, there are some wonderful productions, but majority were not the best. Of course, I miss not being part of it, but the kinds of productions that have come up are not that encouraging.
What do you think is wrong with what we have?
A lot of the time, movies' titles are inappropriate. You watch a movie and you are trying to look for the connection between the movie and the title. The acting too could be funny. You watch a movie for few minutes and you are turned off. But I must say I've liked quite a few.
Which of our actors and actresses do you enjoy watching?
I worked with Joke Silva and Clarion Chukwura in the Mirror in the Sun, and I've always liked the two of them. I like Stella Damasus, Dakore, Kate Henshaw, RMD, Ramsey Nouah, Omotola, Genevieve and a couple of some that I can't remember now. Stella struck me more in Dangerous Twins.
Why did you leave Nigeria?
I went to school. I had just left the Federal Polytechnic, Mubi, and prior to that, I went to a catering school. I went to school, to study Business Studies, worked and got married there. I raised my family there.
What are you hoping to do now that you are back?
I've always being into business, I hope to continue to do business at the same time looking at opportunities that are there for me in the movie industry. I have seen so far that the best way I can contribute is in the area of production. I'm not leaving acting out totally. But you know everything is now different.
What in particular do you see about our acting?
The quality of acting I am seeing is not the same as the one we used to have. You must have passion for what you are doing; acting is not just a means to put food on the table. A lot of movies I see now should not have even being produced.
What was it like in the days of Mirror in the Sun?
It was like living in a fantasyland. We had a building in Badagry. A bus comes to pick us up and take us to camp. I never remember sharing a room with somebody. All our needs were met on set. I worked with Larry Williams on set and I must say I enjoyed the company of everyone I worked with. I am glad I was part of Mirror in the Sun. I don't think we should compare the past with the present. Then, I got opportunities everywhere because I was also modeling.
What was your role in Mirror in the Sun?
I was Ebiere, a sister to Boma in the play. Boma was Ladipo's wife and Ladipo was Larry Williams.
How was life over there?
The people who do odd jobs are mostly those who did not have papers. If you have your papers, you could do any job you want to do. But life could not be compared to living in your home. You know here in Nigeria, I could do what I wanted to do. But over there, I had to readjust. But I was lucky I got student visa. You can't live the way you live in Nigeria in America.
What has been people's reaction to you now?
These days, people come up to me and say 'I know you' and when I can't figure it out I know that they know me due to my acting in Mirror in the Sun.
Why did you come back home?
I came back because of my husband. He got a job and as a family we all came together. But being home, I think I should have come earlier.
Why did you say you should have come earlier?
I am seeing lots of opportunities now.
What is your opinion about our actresses going almost nude to prove a point?
It's a shame. I am not going to do a nude scene for any amount. As a Christian, it is not something I'll encourage. But I'll not infringe on anybody's right if he or she thinks it is right for him to do it. Besides, I don't think Nigeria is ripe enough to pay for that kind of acting. Producers are just taking advantages of girls that are desperate to appear in front of camera. For me, I'll never act nude.
For how long have you being married?
17 years.
Do you think your marriage would have lasted this long if you were in Nollywood?
It has nothing to do with the movie industry. Even without being an actress, most marriages crash. If I'm an actress before my husband met me and he supports me, why should that be an issue?
How have you been keeping your marriage?
It is by the grace of God. Life has its ups and downs. Keeping one's marriage is absolute grace of God, and I am forever grateful that God gives me an opportunity to have a home.