STAKEHOLDERS ENUMERATE FACTORS IMPEDING MANUFACTURING SECTOR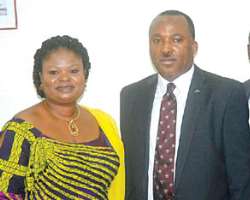 By Ebele Orakpo
Participants drawn from various sectors of the economy have identified lack of basic infrastructure, corruption, poor corporate governance, inefficiency, low employee morale, and near absence of funds for research and development (R&D) as some of the factors impeding the growth of the Nigerian economy, especially the manufacturing sector.
They noted this at an International Supply Chain Global Roundtable held in Lagos, last week, where the role of logistics and efficient supply chain on the economy of nations, organisations and companies was the focus.
Speaking on the topic: Sustaining Best-In-Class Supply Chain Management Standards in the Manufacturing Sector, Prof. Olugbenga Ogunmoyela, Dean, College of Food Sciences, Bells University of Technology, Ota, noted that what we have on ground today are not the best and are therefore not sustainable.
From left, Deputy Governor of Lagos State, Mrs. Adejoke Orelope Adefulire; Executive Director,Banking/Public Sector Skye Bank Plc, Mr. Gbenga Ademulegun; and the Group Head, Lagos Public Sector, Skye Bank plc, Mr. Owolabi Kamson, during the courtesy visit of the bank to the Deputy Governor in her office in Lagos.
Participants agreed that the nation must first of all create something it will be proud to sustain. First on the list of the five most important parameters that must be created if the nation is to have Best-In-Class Supply Chain Management Standards was infrastructure (electricity, road/rail network, water, security, communication), followed by corporate governance (enabling environment, political will, discipline, organisational structure), R&D, Efficiency and customer satisfaction.
Proffering solutions on the way forward, participants said the best way to solve the problem of infrastructure is through public-private partnership (PPP). On the issue of corporate governance, enabling work environment must be created, discipline enforced, political will, waste control and a strong organisational structure. Prof. Ogunmoyela added that there must be 'common understanding of organisational values- leaders must walk their talk; timely business information and operational statistics for planning purposes.'
They regretted that despite the fact that there is a global rule which says that every manufacturing company needs to roll out a new product every seven years through R&D, but that is not so in Nigeria because of near absence of funds for that. Said Ogunmoyela: 'In US and Europe, 3 per cent of the GDP goes into R&D, in South Africa it is less than 1 per cent while in Nigeria, it is less than 0.1 per cent all coming from government. He advised manufacturers to invest in R&D /innovations.