Senate Receives Okonjo-Iweala's Nomination As GEJ Withdraws Tonye Cole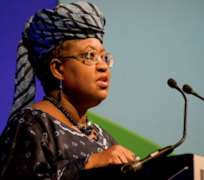 ABUJA, July 05, (THEWILL) – The Senate has received the ministerial nomination of former Minister of Finance and current Managing Director of the World Bank, Dr. Mrs. Ngozi Okonjo-Iweala, THEWILL can report today.
President Goodluck Jonathan forwarded the name of Dr. Mrs. Ngozi Okonjo-Iweala for approval and withdrew the name of Arch. Tonye Cole (Rivers State) as nominee. Okonjo-Iweala is coming on the ticket of the South East.
The President did not give a reason for withdrawing the name of Cole, who is one of the owners of Sahara Energy and son of Ambassador Patrick Dele-Cole.
The Senate however suspended further screening of the nominees till Wednesday.
Meanwhile, the confirmation and eventual inauguration of the Ministers by President Jonathan, was challenged by Senator Chris Ngige (ACN, Anambra) who pointed out that the confirmation was inconclusive since the Senate failed to pass the vote and proceedings that contained the screening and eventual confirmation of the Ministers before the President inaugurated them.
President of the Senate, David Mark, acknowledged his observation, but told him that a communication from him to the executive on the matter has effectively taken care of his observation.