NOLLYWOOD ACTRESS IN ONE NIGHT STAND WITH WYCLEF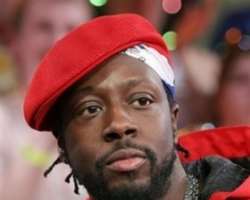 Penultimate Saturday, 18th June 2011, one of Nigeria's celebrated A-List actresses was caught in the act with foreign-based singer, Wyclef Jean.
The venue was the Grand Marquee on the grounds of the Lagos Preparatory Shool, 36 Glover Road, Ikoyi, Lagos and the occasion was the inaugural edition of the Foundation To Future Charity and Fundraising Ball of the Lagos Preparatory School.
On the bandstand were several artistes, prominent among them was one-time Haitian Presidential aspirant and singer, Wyclef Jean who gave a superlative performance alongside other major acts both foreign and Nigeria based.
After the cocktail party, live auction, dinner and performances from Wyclef Jean, American R'n'B singer, Alexander O' Neal alongside major acts from Nigeria, the show came to an end.
The very grand affair was witnessed by dignitaries which also had showbiz stars both from the movie and music sector. As to be expected, they all waited behind to mingle, network and broker one or two deals with the American acts.
While this was going on, one very popular female music promoter had other plans for the act, unknown to the others, she had already set machinery in motion for a female companion for the American act. This we hear is her stock in trade which she gets big bucks from apart from music promotion she's also good at.
Those who know her well know she has pimped several celebrity babes for well-known international showbiz stars and this explains why the babes all flock around her. So to satisfy this very talented foreign act, she had to give him no other person than one of our very best and beautiful actresses who readily played along, knowing the financial reward and international connections she will get from the romp.
So thinking they were very discreet about it, they lodged right there at the big lodge within the venue of the show where a suite was already in place for the singer and they were locked up together all night.
Very early the next morning, our dainty-sized, prim and proper actress who always looks so vulnerable and innocent left very early practically looking over her shoulder.