IFEANYI DIKE KIDNEY TRANSPLANT SURGERY SUFFERS SET BACK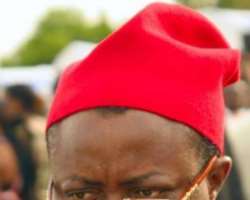 Ifeanyi Dike has debunked the tale making the rounds that he has undergone the kidney transplant in India.
We can authoritatively tell you that the ailing chairman, Board of Trustees of the Action Guild of Nigeria (AGN) who travelled to India five months ago for kidney transplant is yet to undergo the surgery.
The popular actor cum presenter had earlier told us in an interview on Saturday, Febuary 1, 2011, that the transplant will only take three months to be carried out.
Speaking from hospital bed at Fortis Hospital,New Delhi,India, on Thursday, June 23,2011,at 4.50pm,the Igbo Kwenu presenter told us the reason the surgery is being delayed.
"Right now, the India Committee on the Transplant is sitting because of it. The corporation has to be approved by the Indian government before it could be carried out.
Again, they have to be sure that everything is in order before it could be carried out as it's a major surgery".
However, he expressed optimism that the transplant will soon be carried out successfully. He equally assured his fans that he will soon be back to the country.
It would be recalled that the Imo state born showbiz personality travelled to New Delhi, India, for a kidney transplant five months ago.However, the operation is yet to be carried out.