THE DAY COMEDIAN BASKETMOUTH TOOK TO HIS HEELS.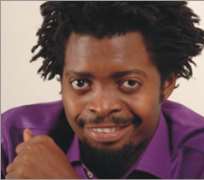 All work and no play makes Jack a dull boy. I guess this saying Is what Comedian Basket mouth tried to keep to when he headed to Deluxe Nite Club on June 11, 2011.
According to sources, on June 11, 2011, at around 3am, Basketmouth was enjoying himself at Deluxe Nite Club then all of a sudden, there was commotion and in a twinkle of an eye, we saw our amiable comedian running for his dear life. Although people tried to stop him that everything is under control but my guy quickly rushed into his car and zoom off without bothering to know the cause of the pandemonium.