Help! They are not giving me roles............Ijeoma Imoh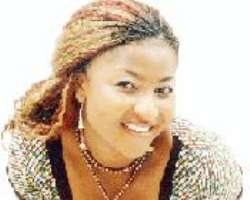 Ijeoma Imoh is one of the new actresses taking over Nollywood. The Lagos based actress, in this interview,with http://nollywoodgists.com she explains how she plans to be the biggest actress in Nollywood and her journey so far.
How is the acting career treating you?
Right now, I don't know what is happening in the movie industry, no work, no call, no script, nothing, I am just looking up to God.
How long have you been acting?
I have been acting for about four years now.
Which is your very first movie?
My very first movie was Desperate need.
Was it a lead role?
It was not a lead; I have never really done a lead role.
What do you think is responsible for that?
I don't know, may be they are not yet ready for me, I am ready, and may be they are not. (Laughs)
What was the experience like the first time you acted along side professionals?
Of course there was the feeling of nervousness facing the camera. There was also the challenge of cramming the script and also trying to fit in and to belong to the crew before the presence of your top colleagues. All of these were the experience I went through.
How did you overcome the challenges?
Copy Cat, (Laughs). I overcame by looking at them and trying to follow their examples.
How did you get into the acting profession?
I heard there is a place called Winnies Hotel and a friend of mine gave me the address and I went there and I saw people, I met a guy called Prince. There was also this other place at the National theater which I have not been to before that time, Prince took me there and I was just standing on my own when a guy walked up to me and asked if I was in the movie industry and I was like… 'what the heck' and he said 'we are having a shoot' and that I should follow them and I asked him where and he said around Ojodu Berger and fortunately for me they were going close to my house and I followed them. I asked him who I was going to shoot with and he said Genevieve and I said really; then let's go now. And that was at the shooting of Bumper to Bumper and that was how I did my first waka pass. That was when I started experiencing what it is to really shoot a movie. When you go out, it takes you about two to three hours to watch but you don't know what it takes to really put the film together. It was an experience for me though.
When you started out, were your parents supportive?
(Laughs) I did not tell them, I sneaked because at that time, the school was on strike so I felt that instead of staying home doing nothing, let me look for something tangible doing with my time and I am not really an office sitting type, that was why the acting thing came readily to mind. Initially I was into modeling but I did not have any agent, I was just on my own which was the reason I responded fast on hearing about the acting thing. I told my mom and then one day my father called and was like… you went into the movie industry to do what? Because he loves education, he is a strict person, a disciplinarian and he feels no matter what you want tot do, you must get the education first in case what you are doing does not work, you will still have something top fall back on. So he was like… you better go and finish that school now because I did not send you into acting and I felt fulfilled with everything at the end of the day.
So you did not actually go back to school as instructed by your dad?
Of course I did, I am in school now. I had to go back to school because then it strike time and my father was like I heard so many people in the industry don't go to school then I explained to him that we have a whole of graduates among them and that I feel comfortable with acting.
What are you studying in school?
Business Administration.
Do you intend to go back into practicing what you study in school someday?
Anything is possible and man proposes God disposes so I don't have much to say on that. I have seen some who read medicine and at the end of the day they work in a bank or they work else where that is not related to their course of study. For instance Okey Bakassi, he is an Engineer and he is in the showbiz industry.
So who is your role model?
I actually don't have a particular person in mind as a role model because everybody is good in his or her own way. I can not say it is Genevieve, I can't say it is Mercy Johnson neither can I say is Aunty Joke Silva Jacobs. They are all good; they interpret scripts their own unique way so I can not pick a particular person as being my role model. I don't look up to anybody; I just look up to God and myself.
What will you say being in the movie industry has changed about you?
I am still me; they all complain (laughs)
Who are those complaining?
My friends are the ones complaining. I have friends from secondary school, I have friends from secondary school, I have friends that I never went to school with but they are still my friends but I am still my same old self. Nothing has really changed me as in my lifestyle, my habits or anything. The only thing it has changed is that even the few minor roles that I get, I tend to respect anywhere I am publicly, at times when people get on my nerves and I feel liken turning back top them to say are you mad, I will just go because I realized I have to respect myself in public. So that is the only thing that has changed about me.
Where do you see yourself in the next five years?
I see myself in higher places and I see myself as being a role model to others.
What is your private life like?
(Laughs) my private life is like you meeting me at home, catching fun when necessary.
How do you catch fun?
I catch fun by swimming, by watching movies
What about your boyfriend, is he comfortable with you acting?
Ah, who told you I have a boyfriend. You journalist sef.
How is your sex life?
My sex life is as you see it o. nothing is happening.