Fancy Hairstyles for the natural Ladies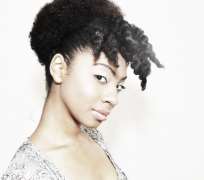 Its official. The natural wave is growing bigger and bigger. More ladies are ditching the relaxer and rocking natural tresses. If you are giving up the chemical straighteners, learning to style can be rough. However, we are giving you tips on how to style your hair fabulously. Learn some of the best hairstyles here and rock your natural hair the FANCY way.
>

THE FRESHENED CURLS:
This is an easy to maintain look that would last until your next shampoo. Its works perfectly for TWA's (teeny weeny afro) also.
Start with a freshly shampooed and conditioned hair. Then roll it in with rollers or rod curlers. Put your hair under a hooded dryer for 45 minutes (dont forget to use a hair protecting spray or balm). You could also air dry your hair.
Remove the rollers or rod curlers. Lastly, finger comb your hair to separate your curls and give it volume.
For TWA's that are not long enough for the curlers to work, WASH N GO! Simple, wash and condition your hair, and viola! You are ready to go. Make your curls stand out by using curl defining products.
>

CRIMP IT:
This look is also known as the 'braid-out'. You can get this look literally overnight. Start with washed and conditioned hair. Using a shea-butter based cream (shea butter is amazing for your hair, we promise!), cornrow your hair, or simply section your hair, and braid it. The smaller they are, the tighter the crimp. Put on your hair net and go to bed. In the morning, remove cornrows/braids and you are good to go. You can separate your hair for more volume.
>

FAUX HAWK:
You dont have to shave your precious tresses to achieve this look. You would need hair gel, bobby pins and you are set.
Using gel, slick your hair up, leaving the center untouched. Use the bobby pins for extra hold. To make this look even more dynamic, cornrow your hair, or do flat twists.
>

Regular afro-puffs.
Section the part of your hair you want has bangs/fringe. Section it again into four (or more) and twist. Then pack the rest of your hair into a low afro puff. You can use bobby pins to achieve this instead of using a band. Twist out the bangs/fringe, separate them (or not) for volume and you are set.

And when all fails, or you have the bad-hair-day-syndrome, pop on a hat/cap or any other accessories! It makes all the difference. It takes your hair from drab to fab in an instant.

Turbans are so fancy right now, so grab one and get creative! Read more about how to tie aFANCY turban

Credits:
naturalchica.com
Iretidayo Adebiyi
Onyinye Fafi.