90 MINUTES WITH OMOLOLU OLUNLOYO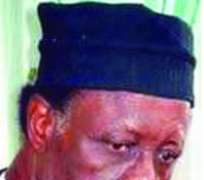 'I do not have anything but I have my brain which I use, and we burst into a long laughter knowing that he spoke the truth as always about himself and his legendary intelligence. He is 76 and his mother will be 100 next month, he added, cracking jokes about the good old times of his youth and the pranks he played'
I told my friends nothing must keep us there for more than 30 minutes. I wanted to get out of Ibadan with its unpredictable violence, ija'gboro, in daytime.  But I was dead wrong. It was not the first time I had failed to keep to the time I promised to spend with him. With these two friends, I strolled into his house of ideas which is what I have decided to call his study, directly overlooking his almost a century old beautiful home.
The palatial white house that is his home actually belonged to his father who died decades ago at the age of 42. It was not difficult for us to know from a distance that he was in the study – cool music seeped through the walls of the storey building that houses one of the best stocked libraries in this country.
Seated with his music was Dr. Victor Omololu Sowemimo Olunloyo, quite like Albert Einstein in his laboratory of ideas. A flash of smiles across his face usually greets whenever any one of us pops in to say hi. He smiled and increased slightly the volume of the music enough for his visitors to notice the form and the content. Olunloyo, as expected, launched us without any warning, into a long discussion of topics from politics to medicine and herbal medical issues. We were actually there on a get-well visit having learnt of his infirmity.
'I was in the UCH for close to four months from February this year,' the former governor of Oyo State told us as he opened files showing documents and medical reports and even letters authored by government officials who offered to help with an overseas treatment but reneged at the last minute for no reason at all.
'I do not have anything but I have my brain which I use,' he said, and we burst into a long laughter knowing that he spoke the truth as always about himself and his legendary intelligence. He is 76 and his mother will be 100 next month, he added, cracking jokes about the good old times of his youth and the pranks he played.
'I still expect they will do something to help,' he said about his health and the need for an overseas treatment in Europe or the United States. 'That is the problem with those of us who were in government not to make money.
He reminded us too that in the course of his service to the nation, he had a son confined to the wheelchair having been accidentally attacked during the Ali Must Go crisis of 1978. Then he launched further into medicine.
'You know in the Amazon Islands, there are over 2,000 leaves which when selectively combined effectively cure cancer?' That was a hypothetical question though, because he did not wait to see the surprise on any of the faces around him before explaining that the effects of the combined leaves kill carcinogenic cells leaving the beneficial ones intact. He went back to his music box and slotted in a CD that showed him as cross-generational in his choice of music.
Now, a look round his study once again: From wall to wall - photos as pages of political history of Nigeria, methodically arranged.  There is Obafemi Awolowo appreciating a bust of his own; to his right is Ladoke Akintola, to the left Adegoke Adelabu, farther right Ahmadu Bello and Nnamdi Azikiwe, then Tafawa Balewa. There are two photos of Shehu Shagari. Why? I couldn't ask. There was no space for that question. There are photos of Olusegun Obasanjo and Ibrahim Babaginda. I am not sure I saw Muhammadu Buhari. Again why?
Discussing with him is like reading a novel, complex in plot, structure and content.  The plot is never linear. You move with him from present to past, past to present, future to past. Indeed, in one of the shelves is a book with the cryptic title: A Brief History of the Future. Don't ask for the author-I didn't have the time to check that too. And if anyone is in doubt as to his being master of all fields, follow him as he went back to medicine and fished out a 22nd July, 1975 memo to Dr. Olunloyo of the Mathematics Department of the University of Ibadan from a Professor of Medicine introducing a paper on alternative medicine for him to look through!  From Maths to medicine, huh! He appeared very strongly in support of views calling for the integration of alternative medicine into the curricula of our medical schools.
Olunloyo again veered off, going personal with the lady in our company. 'She is iron-willed,' he said, turning part of her life story into a mathematical exercise.
'There are several sets of three,' he said. 'For some, it is four minus one; others could be five minus two; six minus three and so on. For yet others, it is simply three plus zero.' Only the four of us were let into the secret of that calculation. That was vintage Dr VOS Olunloyo.
There was also the dangerous days of the Abacha years in The Tribune when Olunloyo, in his MONDAY THINK THANK column,  hid behind the iron trunk of mathematics to predict the death of Shehu Yar'Adua, General Sani Abacha and Moshood Abiola in that order, and how the trio of Ibrahim Babangida, T.Y. Danjuma and Olusegun Obasanjo would inherit the throne. He had a formula then - SAD-BOY, which he unlocked to a few of us. Each of the letters represented one of the six strong men whose destinies intertwined with that of the nation. Later, events showed the pin-point accuracy of his prediction! He said other things about the SAD- BOY characters…
Back to our visit. Another flash of that Olunloyo smile. 'Something joins these three together,' he said, introducing us to a guest about to leave. 'They are all my boys and girl. They are dangerous.' We laughed. He cast a glance at my direction, suggesting that I, in particular, knew too much. 'Iwin ni eleyi'', he said in Yoruba. We laughed with him even as he struggled with his ailment for which he hoped to travel out if those who promised fulfil their pledges.
As we drove out of the Molete, Ibadan residence of this prodigy last Sunday, June 19, I looked back at him. What I saw was not just the man, but a huge national resource that must be kept alive at all costs.