EX-MINISTER GRAHAM-DOUGLAS INSISTS JONATHAN CAN'T BE OBASANJO'S SURROGATE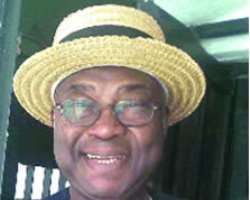 Former Minister of Aviation, Alabo Tonye Graham-Douglas, has described President Goodluck Jonathan as a humble leader who has an independent mind of his own, and will never succumb to any attempt by any Nigerian to hijack him. He told a media parley in Lagos, recently that it would be wrong for anybody to take the president's humility as a sign of weakness. Excerpts:
Emergence of President Goodluck Jonathan
We should give glory to God Almighty about his acceptance by millions of Nigerians. His victory should be seeen as a triumph of people's will. That victory should be given to Nigerians who reposed much confidence in him. I saw divine intervention in his victory. The president should, however, seek indulgence of Nigerians for more time to tackle various problems confronting the nation.
Nigerians need to be more patient and tolerant. The president require maximum support from all to tackle various ills afflicting our nation. People are dying of hunger and
insecurity has become a major issue requiring urgent solution. Some institutions are also not in good shape. To tackle all these ills, we all need to join hands with the president.
Post election violence
My view on this is that some Nigerians are not used to accepting defeat. If you play football game, there must be a winner and a loser. When a particular team loses, the losers don't take guns and start shooting their opponents after the game. There is a mixed grill of ethnic, religious and political factors that triggered the violence. The crisis was unfortunate because it has taken us back to the ugly experience of the 60s. However, the fact must be stressed that our
unity is not negotiable and anybody who is democratically committed to the Nigerian project must not only refrain himself from making inflammatory comments but also caution his followers from commiting heinous acts.
The violence was most unacceptable.
Scrapping the NYSC scheme
It is unfortunate that the violence took place, but we should not as a result of the unfortunate incident abolished what has been created over the years. The essence of the National Youth Service Corps (NYSC) scheme is mainly to acculture, unify and bring together young Nigerians to know different parts of the country. It has also been a unifying factor in our national life.
The scheme has helped to unite Nigerians. The programme is structured towards promoting unity in this country. It is only unpatriotic Nigerians that will canvass the scrapping of the scheme. I don't support the eradication of the programme but it can be restructured or re-organised in such a way that various lapses in the organisational structure can be addressed. This should be taken into consideration when postings are being done. A new research should be made in respect of our cultural heritage with a view of posting people to areas where their lives will be secured. People should not use what recently took place as a yardstick to call for the scrapping of the programme.
When I was Minister of Sports and Youth Development, I did some re-organisation of the scheme. I carried out these changes when I discovered that many young men and women only wanted to serve where they have relations. In those days, young corpers used to bribe officers in charge of postings, but I did everything possible to stop the practice. I thank God for taking that action because my own daughter under the new rule served in Kogi State and it was there she met a young man that she eventually married.
Can you still allow your children to serve in the North?
I am a Nigerian who believes that one incident should not make me change my attitude and perception about the country. Since we have cultural, ethnic and religion diversity, I believe we should not only be tolerant, but we must also strive to be our brothers' keeper. We need to re-orientate our people.
In most cases, people that carry out this dastard acts are illiterates who are not politically conscious of their action. They are like sheep without shepherd. But I don't think this situation will occur in 2015. In other words, if my children are posted to the northern parts of the country, I will allow them wholeheartedly to go.
Reducing the large cabinet
I have been in and out of government as a minister for several years. With what is happening now, the bureaucracy that runs the government itinerary is a very thorough and painstaking one. It may be slow but it is the type that will not accommodate mistakes. Many new people that are appointed as ministers are completely new set of people who do not know anything about bureaucracy. We all have to learn, no matter how brilliant you are, the learning takes some time. When you have challenges, you must have sufficient division of labour.
Take Ministry of Education for example, which has primary, secondary, tertiary and inspectorate divisions. Such a ministry must have more than two ministers. While the substantive minister handles cabinet policy matters, three other junior ministers will assist him in running the affairs of the ministry. The constitution allows that every state must produce a minister. But what the President needs to do is to choose about 15 or 20 people as his inner cabinet ministers. This is the team that will be able to propel his dreams.
Four years are too small to do all these but if all hands are on deck, everything will go well. If the president is unable to achieve 50 percent of his set goals by midterm, you can count him as a failure. Remove him (minister) and let a permanent secretary take up the job, this will put people on their toes. If Jonathan must make a landmark within four years, he needs to appoint more than16 ministers to pursue specific agenda.
Jonathan being influenced by Obasanjo
I think people do not understand Jonathan very well. This man is not only a technocrat, but also a microbiologist who knows different patterns of species. He comes from that part of the country where people are very humble but resolute. Jonathan has a mind of his own, but his humility should not be taken for granted. He can never be a surrogate of any particular individual. I don't
believe there is anybody in the country that can drag him by the nose to do what will not benefit Nigerians.
Setting agenda for the President on the energy sector
If you have stable power supply, business will flow in this country. The cost of diesel is very high. Most foreign companies do not want to come to Nigeria because there is no regular supply of electricity. Can you believe that in my house in Port Hacourt, I use a drum of diesel every 20 hours? I also run a hotel, do you know that tangible part of the income from the business usually goes on buying diesel? If there is uninterrupted power supply, more investments will flow into the country. If the energy sector is fixed, several other things will fall into place.
Tackling corruption
Corruption simply means doing something out of the norms. There are government or instutionalised rules, procedures and regulations, and any deviation from the laid down principles should be sanctioned especially if it is done with an
intention of self-aggrandizement or selfish interest. For us to build a nation, we must put up a system that will tackle corruption with vigour. When I was in government as a minister, nobody could point accusing fingers at me that I was corrupt. We had a tenders board that scrutinized all applications for contracts. We followed due process in all our transactions. Whether corruption will thrive or not depends on a lot of factors. You can't eradicate it but you can put checks and balances in place to reduce it.