'MY BITTER EXPERIENCES WHEN I STARTED SINGING'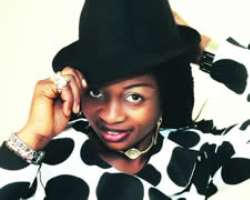 •Isesele
Were it not for her determination, she would have forgotten about music long time ago. But being convinced that she is called to be a music minister, she persevered even when she was jeered at. Today, her dream has come true as she is enjoyed everywhere she sings. A graduate of Economics from Abia State University, ever smiling Charmain Isesele can best be described as a loving, gentle and a courageous lady. In this interview with Saturday Sun, she tells her experiences about her early days as a singer and her success story.
What's your family background like?
My name is Charmain Isesele. I am born into a family of eight by Chief and Mrs. E.O. Isesele. I am the sixth of eight sibling. I am from Edo State.
What was your growing up like?
I had a sweet growing up. My daddy was very tough. He is a retired Comptroller General of Customs. Most times, he was not around because he goes on transfer most often but we enjoyed his fatherly love. My mum who is also disciplined was solely in charge. We are a lovely family. We stuck together until he retired and came back permanently to my mum. My mum was always at home with us and always there, she had a culture of making breakfast for her children till we all became grown-ups. My parents made life comfortable for us. We had everything we required and didn't  need to ask for anything from anyone.
Between your mum and dad, who were you closer to?
Now I am close to both of them. But then, I was closer to my mum. You know that the daddies in families are seen to be very strict and whenever they showed up, everybody took off. My dad was like that when he was not born again, but when he got born again, things changed. He is very close to us and he cares for us. He is a radical giver. My parents are very caring, though my mum would want to make you merit what she is giving you the money for and that has made us great financial managers. However, they are both caring and loving.
At what age did you start taking decisions?
I think it was when I entered the university. When I was still in secondary school, I was not taking decisions. Everything then was based on what my parents wanted.
At what point did you give your life to Christ?
I gave my life to Christ in 1989 as a teenager. Then, my brother and sister who were in the university then joined the fellowship, Believers LoveWorld. They came back with the gospel and I was usually excited whenever they came home. They brought the gospel home but I was personally led to Christ by Rev. Tom Amenkhienan. The message my sister came back with helped me a lot.
What happened to you that convinced you that something had taken place in your life?
The Bible says that if thou shall confess with your mouth the Lord Jesus and believe in your heart, you are saved. That was what I did. When I got born again, I was a shy person and my classmates used to mock me, but I wasn't ashamed of my new life and with time my classmates realized my life had been set on a course that I must follow. Of course, you know that peer pressure has its role when one is in secondary school and it has a long way of shaping one's life, but I played by a different set of rules. My life has not been the same ever since I gave my life to Christ.
What changes did the experience make in your life?
I have always been a well trained and well behaved girl but the life in Christ is beyond morals, it is the life of God in a man, it changes your life completely. Having received this life, the word of God gave me great self-esteem and boldness.
How do you relax?
I am a very busy person but can also give myself a treat from time to time. I get to relax at home, travel abroad, do some shopping, check out some tourist attraction and so much more.
When did you start singing?
I have always loved music, but when I started singing, I didn't know how to sing. A friend of mine even mocked me while trying to sing. Before I started singing, I had the opportunity of listening to a selection of gospel songs that my elder sister, Pastor Ejeme Ebuade came home with from the university. That was how I started. It was after I finished my secondary school that I joined the choir but my voice was not so good. That notwithstanding, I formed a group of 4 called '2dStandard' but was later changed to '4dStandard' we sang a couple of copyright songs together in church but the group didn't survive because we were all teenagers and were under our parents. As time went on, we all had to leave for different reasons. A co-member of the group once told me that I did not know how to sing well, which was true. I loved to sing but my voice was not good enough. One of the songs I even wrote then was like an embarrassment to me because one of my friend simply referred to it as local and sounded like 'Aba Reggae'. I felt so bad but I knew that he told me the truth. Though I was offended at first, I looked beyond the criticism and took it as a challenge to do better. I got to know more about music and other ways I could improve my musical skills and I'm so grateful to him because he made me challenge myself to be the best in music.
Most times, people tell me that I look and sing like Cece Winas, Whitney Houston, etc, which were all good comments but I wanted to do my own thing. I did not want to copy anyone. I wanted to be who God wants me to be. There was need for me to check and work on myself musically. One of the group member who was musically sound, told me what to do and encouraged me to write my songs, and gave me tips on song writing. I stuck to it and that was how I started writing songs. I am now a songwriter and a singer too.
What inspires you to write songs?
Song writing depends on the state of one's mind. Basically, I'm inspired by the word of God, my environment and by other experiences of life. But mostly, I get inspired when I listen to the word of God. When I hear my father, and life coach – Pastor Chris Oyakhilome, Rev Ken Oyakhilome, and Rev Tom Amenkhienan minister, I get inspired and write new songs. My pastor, Pastor Vale Odu-Thomas teachings also continually inspires me to write more songs in service. Thank God for the mobile phones. Before now, I would write some songs and forget the rhythm, now my phone makes it easier for me to record songs immediately I'm inspired. Now I have written well over fifty songs and I'm still counting. In my present album, I have just 12 tracks but before long, the rest would be unveiled soon.
What can make you go into secular music?
There is nothing that would make me do that. My songs are to bless the Lord and also to affect people's lives. It's my calling and ministry. When I was having those challenges then, I always prayed for my music ministry and sowed seed. I have sustainability which is from the word of God. If you check the lyrics of my songs, you would discover that they are praises and appreciation to God or a word of encouragement telling someone to hold on to God's word and change would come. As long as I am blessing people's lives with the word of God, I don't see myself deviating from gospel to another thing. I am not into music for money but to affect lives. I have all things. The bible says all things are mine.
Tell us why you were not discouraged at the time you were ridiculed.
I loved music. I developed an orientation of listening to music. I loved to see people when they sing and ministered to souls. I had the urge to affect lives and that was why I stood unshaken. Pastor Chris Oyakhilome taught me to affect lives and be different. He taught me that challenges should bring out the best in me and that has helped me a lot. I came out as one of the best students in my department and even when I did a professional course on IT, I came out with the best grades. Pastor Chris also taught me to play by a different set of rules because time works for me and that I don't work for time. He also taught me that when I am doing something, I should do it right the first time. I have learnt how to minimize mistakes. My eldest sister, Pastor Ose Oyakhilome has greatly impacted my life, she is more than a sister, and she is a great friend also full of wisdom and insight. For example, I was supposed to go into banking. I served at Central Bank of Nigeria and had banking offers but she told me that I must work in the church and I took to her words. She has added value to my life in several ways and her godly counsel has kept me going.
What was your first experience the first time you faced the congregation to sing?
It was not encouraging. It was not good. I went up to the stage and I sang flat. That was before I worked on my voice. I was cheered up but that clap was to help me from not falling off the stage. I felt like entering into the stage. I started from one key and ended up in another. While I was singing one day, somebody once asked me to keep quiet. He said I was making noise and sounding like a chicken. I was so angry but I told him it was not his fault. I also told him that every good singer started from somewhere. I was starting somewhere and no one should not despise the days of my little beginning. My choir coordinator then, Isaiah Samson, however, taught me that I could also improve on my voice by shouting and screaming, that it helps to open one's diaphragm. I started shouting while singing from that day. Even while in the bathroom, I would sing on top my voice and my cousin asked if I didn't know that I was disturbing with my shouting, to him it seemed out of place but I was working on my voice. Now when I sing, people say that I am an Opera singer. It was the shouting that helped me work on my voice. I can confidently say that singing has brought the greatest joy to me.
What kind of gospel do you sing?
I do a variety of genres, worship, praise, R&B, dancehall and hip hop, naija groves. I know that if I am able to sing and minister to God, then everybody else gets ministered too. I also do native songs, I can sing in my native dialet.
Aside music what else do you do?
I work at Christ Embassy, Isolo. I'm a Manager. I am a staffer of the church.
Who is your ideal man?
Someone that has the fear of God
What turns you off and on?
Lip-service turns me off, but I love the truth.
What is unique about you?
I am a very creative person. I can make something out of nothing. I always look for a way of doing things better. I can sew, make hair and do designs. In fact, the styles of most of the clothes I wear are designed by me. I can't but be creative, creativity is my hobby.
What is your most memorable day?
The day I got born again. It was a great experience for me to know I am at peace with God.
What are your expectations?
To affect people all over the world with my music. One good thing too is that my kind of music appeals to a whole lot of people. So, my greatest expectation is to affect lives all over the world and beyond my wildest dreams.