I'm Fasting And Praying To Get Married Next Year -Pee Lola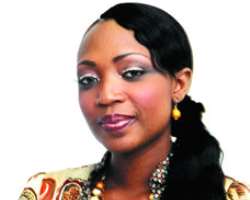 Omolola Shokeye, better known as Pee Lola, is one of the big names on the Abuja entertainment scene. It is no wonder the lady, who is also slowly carving a niche for herself in Nollywood, is beginning to see herself as a big fish in a small pond. She is, in fact, considering moving to Lagos the entertainment Mecca of Nigeria. The singer/actress who holds a degree in economics from Rutgers University, U.S.A. spoke with Correspondent Kemi Yesufu about her love life, music and acting.
When I called, you said, you were going to the salon to make your hair for a friend's wedding. When is yours coming up?
Hopefully, mine will be coming up next year. I am praying and fasting to God that my wedding takes place next year.
You should already be in a relationship for you to be thinking of getting married in 2009.
Funny enough, I am not in a relationship; I have good friends but I am believing God for the right man. So, I am still praying over it, I don't think I should say that I am in a relationship.
At a party last year, you were with this tall dark guy, who was dressed in a kaftan whom you greeted in a warm manner.
Oh, yes, I had a relationship with him. But we are no longer together. He is married now.
Why did he not walk down the aisle with you?
Things did not work out with us. It is not all relationships that lead to the altar. But we are still very good friends, I plan on going for his white wedding later this month.
A lot of people don't believe in attending their ex-lovers' wedding. Many will be wondering what you want to prove by attending your former boyfriend's wedding.
He invited me for the wedding. I did not see reason for him not to invite me. He even told me about his traditional wedding. If I don't go, it may seem as if I still have feelings for him. There are no hard feelings, we all move on in life.
Many girls in your shoes would like to wring his neck.
No, no, no, I can't bear grudges against him. I think that if you truly love someone then you should let him go. Because it is no use if you hold on to someone and in the long run you end up being sad or he ends up sad. It is better you two move on so you could find happiness with the right person.
Maybe he did not have the qualities you wanted in a man because ladies do not let go of their Mr. Right as easily as you have.
Yeah, I think you are right. Though he is a nice guy, I just did not think he was mine.
What kind of guy fits into your description of Mr. Right?
I want a respectful, God fearing, caring and handsome man. Because of the industry I am in, it helps to have a good-looking man. When you have a handsome husband you can withstand temptation. When temptation comes, you won't fall because you remember that your man is handsome. I plan on having a marriage that will last a lifetime, so I want someone I will be friends with.
Do you think that the fact that you are an entertainer scared you ex away?
Yes, I think so. Because the first time I met his Dad, he told me his father asked him he wanted to marry a musician.
I think people get the wrong perception of me, maybe because of the music I sing and how I perform on stage. But those who know me know I am a homely person. When some people hear my name they say, 'ah Pee Lola that musician/actress babe.' But I am different from what many people think I am. It might be difficult for a man to tell his family that I am a homely person, but singing and acting is not reality. I think it is difficult for people to accept artistes for who they really are.
Maybe what happened between you and your ex is a wake up call for you to change jobs?
At this point in my life, I don't see myself in the corporate world. I have been by myself since I left school. My plan is to make more money from show business. The corporate world is not the place for me. I know that working in a place like a bank will slow down the level of my creativity. I know that I will not be giving my best to any organisation I work for and one day I will pack my things and leave. I am not used to working nine to five; I am used to being my own boss. Yes, I will be doing other business aside from entertainment, but I will work for myself.
You have songs on radio and on TV, how come your album is not out yet?
I am just trying to get things right. I am also looking at how things are playing out in the industry. But I guess if I keep looking for a perfect time, things might pass me by. I can say I am ready to come out with my album. I am looking at having 12 tracks on my album.
Many who know you say you have all it takes to make it big in music except the right record label. Though artistes complain a lot about the record labels, they most time benefit from the hype and the cliques formed by the label. Will you release you next CD on your mum's label?
Before the labels you talk about became well known, with the cliques you mentioned, they went through the growth process. This is what my mum and I are going through. I don't want to sign with another label when I can grow mine. Maybe I am slow about building my label, maybe I am in the wrong place, Abuja, that is. Abuja is more of a civil service town, Lagos is where entertainment thrives. They don't make stars here in Abuja, they would rather celebrate someone from Lagos, or Port Harcourt. I think I could have become bigger than I am if I were in Lagos.
So, do you plan on moving to Lagos?
I tried to but armed robbers attacked me. The attack slowed down my relocating to Lagos. But I think it's the devil's way of slowing me down because soon I would have to relocate to Lagos. It took me time to recover from the attack.
How did the attack happen?
It was a terrible experience. I went for the Lagos premiere for a movie titled Where the Heart Lies, which I starred in. On my way back home, five men with guns shot at the car I was in at the Eric Moore junction in Surulere. I am grateful to God that none of us got hit by a bullet, none of us was taken away to be raped. After that attack, I was surer that God has a purpose for my life. I thank God I am alive. It was scary for me because it was the first time such a thing was happening to me.
Aside from the unfortunate attack by armed robbers, one could say that 2008 is a good year for Pee Lola. You starred in movies, your song was on different radio stations and your video premiered on MTV Base.
Really, I am grateful to be alive. I also had a ghastly motor accident in which my car was written off but I came out without a scratch. I went through trials this year and I am still alive. So, yes, I can say in all that having survived trials and progressing professionally, I had a good year.
Talking about Where the Heart Lies, you acted the role of Omotola Jalade-Ekehinde's character's daughter. Did you feel intimidated by her and other established actors like Uche Jombo and Desmond Elliot?
I have met some of them before I went on set.
Someone like Desmond Elliot who I hadn't met was wonderful. In fact, the set of Where the Heart Lies was like a family, the big names were helpful.
Don't you think that that you would have hit it big if you had concentrated more on acting?
Yes, music takes time, but it is the same with the film industry. When you hit, you become big. I truly believe that each artiste has his or her own time and we all have to wait for it. There are people who have acted 30 movies and people don't know them. I have a few movies and people already know me. I will not hustle any executive producer to caste me in his/her film. I will continue to work hard and pray. You know the entertainment industry has its politics.
You probably will not hustle a film producer because you come from a wealthy family.
I hear people say that, but I work hard, maybe not in the direction some people direct their energies. Yes, my mum is comfortable but she doesn't get me movie roles, neither does she sing with me in the studio. I am female and there are few female musicians hitting it big. The actresses sometimes have it rough getting to the top. I don't know why Nigerians prefer to listen to male singers. Once they hear that you are female in music, they think you should be singing gospel and when you sing secular music, they think you must be promiscuous. Female artistes are not a promiscuous lot, they are just women who have talent and want to showcase it.