I don't smoke, drink or do night parties — Oga Bello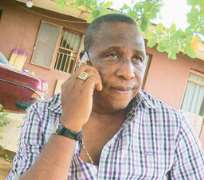 Adebayo Salami is a veteran actor in the Nigerian movie industry; he is married with beautiful kids and needs not much attention.
Born 57 years ago in Lagos State, he shares his wide experience in the movie industry and his background on how he worked in the Federal Ministry of Works and Housing in this exclusive interview with Olasunkanmi Akoni in Lagos. Excerpt
How did you get into acting?
It all started 40 years ago when I joined the younger star concert party in 1964 with the sum of one pound, one shilling (which is about one million naira now) to be part of the group. I used the money I got from preaching (Wassi, Muslim preaching session) to start my career.
Who is Oga Bello?
The name 'Oga Bello" came into being when the present NTA 10 was still NTA Lagos and there was a series then called "Ojo Ladipo ½ hour" in 1972. I played the role of an executive man and my boss then, the late Ojo Ladipo gave me the name "Bello" simply because I am an Ilorin man.
That was how the name "Oga Bello" came into being and then he plays the role of the man's messenger.
I am the same at home and on stage.
How and where did you get the passion for acting
I had passion for anything art right from the days of my youth. I was born into it because during festive periods in those days, there were a lot of activities I participated in during Ramadan, Eid-Fitri, Easter and Christmas celebrations, like the 'Agere', 'Meyboyi – Maboyi', which is a Brazilian carnival and 'Iyawo Olele'.
I started developing interest in drama from a programme called "the village doctor". I watched and later acted all the parts in the shower before I leave for school. I worked as a library assistant in the Federal Ministry of Works and Housing from 1970 till 1974 and worked as personal assistant to the then Minister for Works and Housing, Femi Okunu for some years before I resigned into full-time acting.
Advice for upcoming artistes
My advice to upcoming artistes is to be dedicated in all they do. The road may be very rough when you begin, but when you are discovered, the sky is your limit. Well, on the part of the selfish director, the problem is in every sector, e.g. education, banks etc. it is not peculiar to our industry alone. I do not support harassment in the industry, God should help us.
How has it been for you as an Ilorin man in acting instead of being an Alfa?
Thanks be to God because people are beginning to realize that if God decides someone's profession or talent, not one man can change it. I faced a lot of challenges because my parents did not agree with me being an actor.
In the part I come from, it is either you are a businessman or an "Alfa". I ran away from home just to follow my dreams.
I stayed in church, but my parents did not like the idea and I was called back home by my family. After much talk and with the help of my elder brother, Saka, I was allowed to choose the path I want.
How do you access the present theatre and then
There are a lot of differences because technology has done a lot to the industry, but people like me were able to move with time. It is better now than before, but the only area the industry is lacking is the discipline as emulation from the western cultures is trying to take over.
In those days, we were always time-cautious during rehearsals and even on the set, but nowadays we find out that most of us don't respect time and some other important rules in the sector, but it is more lucrative now to be in the movie industry as parents now bring their children to be trained as actors and actresses unlike before that they want their children to do otherwise.
Nollywood and Hollywood; your take on it.
We should try to be creative and not emulate the western culture and also pay homage to the fathers of arts in this country – the likes of Wole Soyinka, Late Hubert Ogunde, Ola Balogun, Ajani Ogun, Sanya Dosunmu etc, just to mention a few.
Let us all come together as a body, not taking one part of the industry into Nollywood, thereby leaving others out. We have to sit tight in Nigeria. Formerly, films were shot in celluloid before the home videos came into being. After then, other sectors started joining the industry.
English movies are not Nollywood; the Yoruba, Igbo, Hausa and Itsekiri are there as we all love each other. Ogunde started and commercialized the theatre.
Children and the industry
Well, I don't force my children into what I am doing. They choose to go into it; if they are interested, I encourage them. All of them are into it except for my first child who is a 'Londoner' and does not like the theatre, but others are graduates from different fields, but are into the theatre today and I am married with two wives.
Government and theatre
Well, 90 percent of what we artistes are doing is by self effort, that is by carving a good image for our beloved country in the international scene. The last administration tried because it picked interest in the movie industry which I am part of them.
They started series of committees like, Film Policy, steering committee for motion picture. But we have done our best as a committee by submitting our reports to them, but we are yet to get any response from them.
As we started, if we are allowed to go on like that, good funds will be generated from the movie industry instead of oil.
The plan by the last administration to sell National Theatre, what is your opinion on this
We do not want it to be sold.
I paid a courtesy call to the then president, I was the president of Nigerian theatre practitioners and I led my executive to him, well, he said categorically that it wouldn't be sold, but he said he would be rehabilitate it, but if we are interested, we should pay a fee of ten thousand dollars then, but we did not pay.
I would advice that the theatre management should tighten up security in that area as we all know the country we are in.
Artistes and Piracy
Hmmn!! Piracy is very difficult to eradicate all over the world. What we can only do is to curb and we are trying our best as the present regime of ANTP is working out modalities to minimize piracy, because they are smugglers; they watch you more than you watch them.
Movies and morals
I know myself because any of my movies teach morals, but the fact of the case is this: people rush into what they don't know about, not only in the movies, we have them in other sectors, but those who know about it will remain.
The Censor Board should tighten their seat belt and be sincere to the public according to the law that controls them, but they are trying their best.
It is widely believed that Artistes engages in drug abuse, what is your take on this?
Artistes are not on drugs, but if they are, about two percent are doing that. You know if you are a celebrity, there will be news about you, even those in power do drugs, so what are we saying?
Adebayo Salami and Oga Bello
Do you have any plans to retire some day
Artistes do not retire, because if you do, your inborn talent will haunt you. It is either you write scripts or produce movies as you cannot disappoint your fans. Well, I am not thinking of retiring, if anyone is expecting me to retire, "No". I would not be tired because I have a lot to preach and give to my fans.
What is the secret behind your youthful looks despite your old age
I take good rest and I do not allow things to bother me much. I do little exercise, drink a lot of water, I do not party, club, drink and smoke.
Best food
Amala, gbegiri and wara. My mum sends wara (local cheese made from cow milk) to me from the village.
How do you spend your mornings
Well, my I say my prayers, I love taking tea early, I write before coming out of my bedroom. If I do not have any appointments outside the house, I gather my children to counsel them on issues; I sleep late and wake up early.
Your dream car
Any good and strong cars that can move and work well.
A word for you fans
I love them so much. Without them, I cannot exist; that is why I am always careful with what I am doing in the public and I am always sad when I hear bad comments about my movies.