APGA IS LIKE OUR RELIGION - OKOROCHA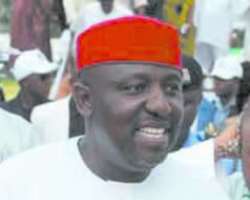 Governor Rochas Okorocha of Imo State has described the All Progressives Grand Alliance (APGA) as a distinct political party that the Igbo passionately believe in and follow like a religion.  He said this while playing host to a chieftain of the Peoples Democratic Party (PDP) and former minister of Foriegn Affairs, Ojo Maduekwe, at the Government House, Owerri.
'I urge all to support APGA.  All Igbos should join APGA for us to be identified, it is our culture.  Every Igbo man is APGA before any other party,' he said.
The governor promised that APGA would continue to support President Goodluck Ebele Jonathan in his administration, recalling that the party ensured victory for the president in the last election.
He further remarked that the emergence of President Jonathan had relieved Nigerians from the bondage of zoning for an era of freewill, where the electorate would cast their votes on the basis of past antecedents and abilities and not on party affiliation, ethnicity or religion.
Governor Okorocha, however, assured his visitor that his emergence as APGA governor would not affect his relationship with his PDP brothers.
Earlier, Chief Maduekwe said he came to Imo to congratulate his friend who emerged as governor and pledged the support of his party PDP to his administration.
He said he was in the state on behalf of the President, Jonathan, adding that Governor Okorocha was always welcomed to the presidency, since, according to Maduekwe, 'Rochas belongs to everyone of us.'
'PDP will be with him and support him.  PDP is interested in good governance. He's shown capacity for reconciliation and unification,' he concluded.