"I AM NOT ON FACEBOOK "JACKIE APPIAH NOTIFY HER FANS AGAIN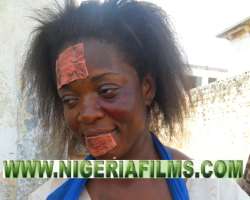 I wrote this article on 2011-02-18 and since then have not had the opportunity to chitchat with Jackie Appiah,till 6th/13/2011and the message she asked me to forward to her fans is that she is not on Facebook.
You can read below the interview we had on 2011-02-18
Ghana Movie Awards winner and AMAA best actress, Jackie Appiah has revealed to us this week that she is not on Facebook and twitter so anybody who thinks he or she is communicating with her or her manager on facebook, must be talking to the wrong person.
This revelation came out after a die-hard fan called Nanou Pharma Malumba in Belguim reported she has been talking to people in the name of Jackie, where she started calling our office to assist her get in touch with Jackie Appiah because she has been talking to her and have some businesse to complete with her.
Samira Yakubu, who happens to be Jackie's manager also added her voice to the conversation by saying "this is not the only complaint we have received and this is not the first time we are receiving it, but we feel this is the right time for us to come out to make our fans know that Jackie Appiah is not on facebook yet and they will make it known to her fans anytime she comes on facebook and twitter".
She also mentioned that most of Jackie's acting friends in Ghana and outside Ghana have been informing Jackie that they have been talking to people in her name, and if she doesn't clear the air for people to know she is not on Facebook, people may be using her name for some fraudulent practices which can dent her image. This same scenario has happened to a lot of movie stars like Ramsey Nouah, Genevieve Nnaji and also some Ghanaian musicians like Samini and they have come out to clear the air.
There has also been an incidence where people have reported to our office that they have met people in internet cafes using Jackie Appiah, Juliet Ibrahim, Roslyn Ngissah and a few other pictures to chat."We have conducted a thorough research which shows that with the many movie stars who are active on Facebook, people don't create face book accounts for them" Samira said.
We have also done another search on the rate of fake facebook account in the names of celebrities and this is our finding. Jackie has about 90 fake facebook account names, Majid Michel has close to 65 fake facebook accounts, Juliet Ibrahim has 4 face book accounts because she operates her own page too and we have been informed she manages 3, Roselyn Niggisah has 3 facebook fake accounts, Eddie Nartey has 2 facebook fake accounts,while John Dumelo has 29 facebook fake accounts whiles his management manages 3.
An incident is also reported of people using John Dumulo's name on Facebook to ask for money from people under the pretext of donating to orphanages.
When we asked Jackie what she will do about it, she made it known to this us that there is nothing they can do for now. "What we can do now is to use the media to tell the general public that we are not on facebook nor twitter so any communication there in the name of Jackie is false" she said. There is also another question of whether Jackie went to Egypt or Nigeria but her manager maintains that it is up to any serious minded journalist to visit the immigration of Ghana to find out the truth.