"MY FORAY INTO MUSIC WAS BORNE OUT OF PASSION" - Essence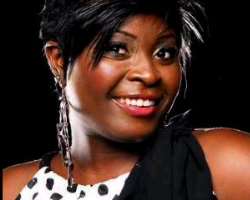 Uwale Okoro also popularly known as Essence in the entertainment circle, is not a novice when it comes to music. A graduate of Performing Arts from Delsu Abraka, Essence has used her sonorous voice to dazzle her fans and put smiles on their faces as well. In this chat with her at a recent music show in Kano where she performed alongside Daddy Showkey, Sammie Okposo, Mekoyo and a host of others, she talked extensively to our reporter Amb Emmanuel Gabari on her passion for music and her expected new album.
FANS KNOW YOU AS ESSENCE. WHAT IS YOUR REAL NAME?
My given name is Uwale Okoro.
HOW DID YOU COME INTO MUSIC?
My foray into music was borne out of passion and not for the fame and glory.
HOW HAS IT BEEN LIKE FOR YOU? DO YOU EVER REGRET VENTURING INTO ENTERTAINMENT?
Music is akin to breathing for me and even when the down time comes because they do, passion and love for music sustains me.
YOU HAVE COME A LONG WAY AS ONE OF THE FEMALE ENTERTAINERS WHO HAS BEEN VERY CONSISTENT. WHAT IS YOUR STAYING POWER?
God, the fans and passion have all been my source of strength in remaining in this game.
YOU BECAME A SOURCE OF INSPIRATION TO OTHER FEMALE ARTISTES WHO SAW YOUR CONSISTENCY AND WERE ENCOURAGED TO GO INTO ENTERTAINMENT, WHAT IS YOUR ADVICE TO THEM?
My advice to upcoming female artistes is to first ascertain if they really want to do this. It is not about your being sexy. After all said and done, your talent is what people will look for and if it's not there, then you won't last, also for them not to find the obvious easy way out because it will work against them.
A LOT OF PEOPLE NEVER KNEW OR MATCHED THE VOICE TO THE FACE UNTIL THE HIT SOUND TRACK "THIS IS SUPER STORY". THAT SONG WAS AN INSTANT HIT. HOW DID IT COME ABOUT?
I was contracted to sing the song for the sitcom when it was about coming out. I had always been a fan of the comic book so when it was being brought to television I was thrilled to be part of it. The song becoming a hit was also due to the popularity of the comic I think, and it was something fresh on television and by God's grace it is now a classic.
YOU HAVE STRONG VOCALS. WHAT DO YOU DO TO KEEP THE TEXTURE OF YOUR VOICE?
My voice is a gift and I treat it as such. I have over the years by trial and error gotten to know when to sing and when to shut up!
HAS THERE EVER BEEN A TIME WHEN YOUR VOICE FAILED YOU WHEN YOU NEEDED IT MOST?
Oh gosh, yes my voice has failed once or twice due to overwork but nowadays when my voice is not in good condition I simply don't sing.
WHAT IS YOUR FAVOURITE FOOD AND DRINK?
My favourite food is fried rice and chicken plus salad and of course a bottle of coca cola! Yum!
YOU SEEM TO BE ONE OF THE OLDEST ARTISTES IN THE KENNIS MUSIC LABEL WHO
HAS STAYED PUT. WHAT IS THE MAGIC?
Having been part of d industry in the capacity of backup singer to Kenny Saint Brown and a few others, I was priviledged to see first hand the follies of artistes before me. If your aim is to get money or fame at all cost then you will be a rolling stone that will gather no moss so I advised myself when I finally got signed on, not to make the same mistake.
WHO IS ESSENCE ON STAGE AND IN THE MUSIC TERRAIN?
Essence in the Nigerian music terrain is an artiste that is gaining steady momentum and is getting better like fine wine.
WHAT ARE YOUR DREAMS AND ASPIRATIONS?
My dreams and aspiration is to by God's grace, be relevant still in my chosen profession in many years to come and of course make more money.
LET'S TALK ABOUT YOUR NEW MONSTER HIT, "FACEBOOK LOVE". HOW DID YOU COME ABOUT THAT SONG?
Facebook love was a song given by God Himself. I prayed for a song that would impact my environment positively and God gave it to me.
YOU ARE ONE OF THE VERY FEW FEMALE ARTISTES WITH A STRONG VOCAL THAT CAN COMPARE TO WHITNEY HOUSTON, CELINE DION, DOLLY PARTON and others. ARE YOU UTILIZING YOUR VOICE TO THE FULLEST?
I honestly think everybody has more to them than they are offering and my prayer is for God to grant me the grace to keep doing what I do and evolve as music evolves and thereby give more and more of myself as the years go by.
YOU ARE SO DOWN TO EARTH AND HUMANE. TELL US A LITTLE ABOUT YOUR FAMILY AND EDUCATIONAL BACKGROUND.
I keep hearing I'm down to earth. Is there another way to behave? Well I'm just being me. That's all. No fuss, no fight! I'm a graduate of Performing Arts from Delta State University Abraka and the last of seven children from Delta State. Itsekiri by tribe and a true Niger Deltan!
HAVING BEEN IN THE MUSIC INDUSTRY FOR A LONG TIME NOW, WHAT DO YOU WISH COULD BE CHANGED IN THE INDUSTRY TO MAKE IT BETTER?
What I wish changed is the lackadaisical attitude towards female artistes. We need equal playing opportunities as the guys. We work as hard as they do!
ARE YOU COOKING UP ANYTHING FOR YOUR FANS SOON? WHAT SHOULD THEY BE EXPECTING FROM THE ESSENCE COLLECTIONS?
I'm working on a reloaded album of my second album 'essential'. It will feature new songs and remixes like Facebook Love where I featured Neato C and also a reply to Goldie's 'you know it'.
WHAT DO YOU HAVE TO SAY TO YOUR FANS?
To my fans I say sincerely you contribute in a major way to my success. God bless you all.
Amb Emmanuel Gabari reporting for www.nollywoodgists.com in Kano