FEMI KUTI FILES FOR DIVORCE FROM FUNKE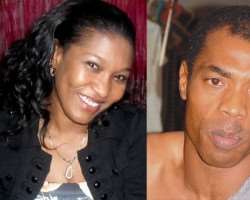 Femi Kuti, the son of Afro legend Fela Anikulapo Kuti has filed a divorce against his wife, Funke.
Filed before Justice L.A.M. Folami of Lagos High Court, the suit, when heard, will be another celebrated divorce case.
The case was to have come up on 31 May, 2011.
Although the ground for the divorce could not be ascertained, a source said it may not be unconnected with a an allegation of infidelity against Funke seven years ago.
Another source reveals that the divorce could be due to incompatibility between the couple.
It was gathered that they still speak on phone and Funke often visits Femi's Akute home to see Made, the only child of the marriage.
Although no date has been fixed for the hearing, both parties confirmed that they are aware of the case.
"Yes, I have filed for divorce, but I will not speak further on the case because I don't want you to spoil it for me," Femi said .
On her part, Funke said she has been served a divorce letter, adding, "that is only what I can tell you about the matter."
In 2003, the entertainment industry witnessed the separation of a one-time happy couple, Femi and Funke, as the former accused the latter of infidelity among other things.
This, however, was denied by the wife and later both went their different ways, leaving Made, their only child in the custody of Femi.
After the separation seven years ago, Femi had other relationships which have produced five kids while Funke is yet to remarry.