THE PROPOSED LIMITATION OF CASH WITHDRAWAL POLICY OF THE CBN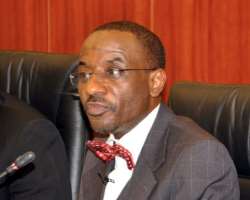 CBN COVERNOR MALLAM LAMIDO SANUSI.
The Governor
Central Bank of Nigeria
Plot 33 Abubakar Tafawa Balewa Way
Central Business District
Cadastral Zone, Abuja

Dear Sir,

THE PROPOSED LIMITATION OF CASH WITHDRAWAL POLICY OF THE CBN
We are anti-corruption Attorneys Based in Abuja and support your fight against graft and financial crimes in Nigeria since you assumed office.
We are seised with some Newspaper reports to the effect that the CBN through a press release on April 28, 2011 directed all deposit money Banks with effect from June 1, 2012 that daily free cash withdrawals and lodgments by individual and corporate customers do not except maximum of N150,000 and N1 Million.
According to the report also, the new policy is to be operational only in Abuja, Lagos, Port-Harcourt, Kano and Abia. Further, the report say 'it is to help curb incidents of violent robberies which to the CBN, has become common because people move huge volume of cash ground'.
We have issues with this policy sir, with due respect, if it did emanate from CBN.
First, it would seem to run contrary to section 1 of the Money Laundering (prohibition) Act 2004 which limits cash lodgments/Payments to N500,000 and N2m for individuals and corporate bodies. Would if not therefore be illegal in the circumstance?
Secondly, the reason given for the new cash -less policy seems not strong enough. If the reason is to help curb violent robberies due to people carrying heavy cash with them, then it means the CBN is now doing the work of the security agencies, like the Police, whose duty is to maintain law and order. We doubt if policing the Country is part of the mandate of the CBN under the CBN and BOFI ACTS? Sir, if after June 1, 2012 upon commencement of this policy and we still witness robbery attacks on banks and customers, do we hold the CBN responsible?
Thirdly, we do not know how this limitation on cash withdrawals would help boost the plunging fall in the value of Naira Vis-a Vis major world currencies like US Dollars, British pounds and Euros? We do not even know how this helps to curb corruption in public office?
Fourthly, turning Nigeria into an e-payment country should be optional. We believe those who prefer to use credit cards to make payments should have the right to do so, while those who prefer making payments in cash should be given their right to so do. Forcing this policy on all would seem arbitrary and perhaps unconstitutional. Because, a customer who has money kept in bank, which is his personal property should not be prevented from taking out his money or be penalized by charges for so withdrawing since we know that banks levy various open and hidden charges from Customers to maintain their accounts. Section 43,1999 Constitution may likely be violated in this process we suspect.

Fifthly, why is the policy limited to five States in Nigeria? Are you saying the other states do not experience robberies or are the customers in the other states not Nigerians? Is it not then discriminatory? Is it not possible for one customer to move from Lagos to Oyo or Ogun state to withdraw beyond the limit?
Lastly, what is the guarantee that the e-payment system will not disappoint customers as the ATM has been doing? A lot of people have complained about ATM withdrawal frauds and system failure in ATMs. Electricity supply in Nigeria has not improved. So, how can you sustain online/electronic card payments system when we cannot generate constant power supply to sustain the country? Nigeria has mass of illiterates as businessmen. How many people in the rural areas, who believe physical cash is their power, know about ATM?
We need assurances to these posers. We do not want to rely on newspaper reports on this matter. We want to get an official statement from you on these. Hence, may we humbly book an appointment to meet with you on any date convenient to you in June 2011?

Yours faithfully,
Ogbili Charles Esq. Managing Partner.
Osuagwu Ugochukwu Esq.
Principal Partner.

Disclaimer:

"The views/contents expressed in this article are the sole responsibility of the author(s) and do not necessarily reflect those of The Nigerian Voice. The Nigerian Voice will not be responsible or liable for any inaccurate or incorrect statements contained in this article."
Articles by thewillnigeria.com