…HOUSE CLERK MISLED BANKOLE, SAYS NDUME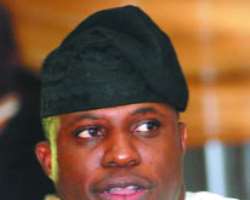 Hon. Dimeji Bankole
Former opposition leader in the House of Representatives and now Senator-elect, Ali Ndume has blamed the Clerk of the House, Sani Omolori for the travails of the Speaker, Dimeji Bankole over the N10 billion debt hanging around his neck.
Ndume accused the Clerk of giving ill-advice to the Speaker when the issue of an increase in allowances of members was brought to the attention of members at an executive session.
A 37-man ad-hoc committee raised by the House had recommended an upward review of quarterly allowances for members last July from N27.8million to N42million.
'Not that I am dissociating myself from what happened, but the fact remained that I warned Bankole that the House budget would not be able to sustain the allowances of members in the report submitted by the 37 wisemen.
' At the meeting, I objected to the jumbo pay and the Clerk of the House was asked whether the House budget would be able to sustain the allowances and he answered that the budget would be able to sustain the payment of over N42 million quarterly allowances as against the previous N27 million.
Ndume, now a Senator-elect for the Borno South Senatorial District on the platform of the Peoples Democratic Party (PDP) explained that the issue of N10 billion came as a surprise, as it was linked with the running of the House.
He reaffirmed that it was the Clerk who assured the leadership and other members at the executive session that the budget would be able to finance the allowances.
Notwithstanding, he stated that the Speaker must share in the blame because 'some of us warned him against the jumbo pay, so nobody knew when he was collecting the loans.'
The senator-elect, however, attributed the problem in the House to the fact that the leadership has not been effective in the management of the House,.
'Bankole was misled, I do not stand for him, I was not speaking for him, he relied heavily on the bureaucracy at the expense of the body of leadership. I can say that anywhere.
'He shares in the blame because I warned him not to do anything that the members will hold him responsible. If the Clerk insists that he was right, then Bankole was wrong to have borrowed money, but if the Clerk could not provide the money, then blame Bankole.'
Ndume lamented that it was unfortunate that this was happening in the House after the Speaker had been warned severally by some of our colleagues.
'I personally warned him, I reported him to his father, but when I realised that he was not ready to change, I decided not to go to him for any advice on the running of the House.'
As Senator-elect, he said that his area of focus was that 'for 40 years oil has been discovered in the North and since then it has not been exploited, we have it all over the North but concentrated on the South- South.'